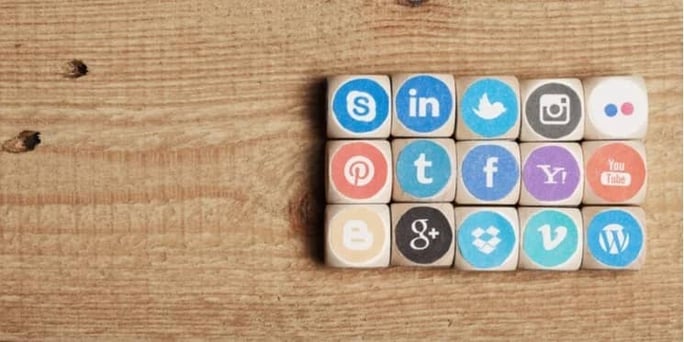 94% of content marketers are using social media as part of their strategy. And for good reason - 54% of buyers use social media to research potential vendors and solutions.
Social media is a crowded space, and for content marketers, getting your content heard above the noise can be challenging.
To really illustrate this point, here are some stats about what happens on social media every minute;
448,800 tweets are published
3.3 million Facebook posts are published
65,972 photos are uploaded on Instagram
That's a staggering amount of content. How can B2B marketers ensure their content stands out against this backdrop?
Here are some best practice tips.
1. Curate quotes and takeaways
Simply repeating your blog post title in your social media post isn't enough to make it stand out from the crowd. In fact, it can look lazy and careless.
Creating a compelling and unique social post that's different from the blog post's title will add a layer of interest for your audience. The aim is to garner enough intrigue to encourage people to click through to your content. Maybe your blog post contains a compelling statistic, a surprising statement or a thought-provoking quote. If so, use it. This will give you more leverage to capture your audience's attention.
Check out this example from one our recent tweets;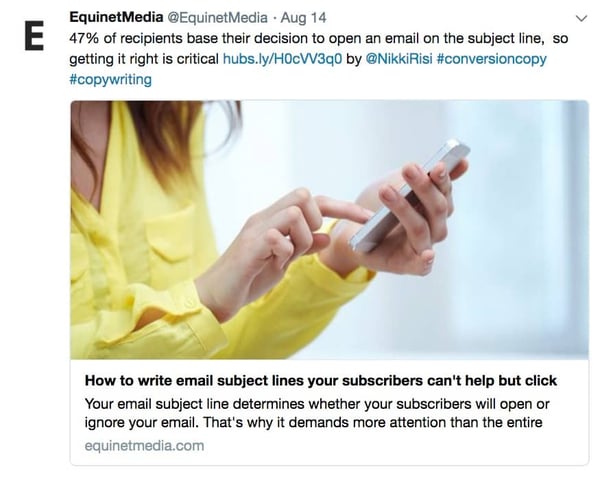 2. Consider visuals carefully
As humans, we are more drawn to visuals than text. So when choosing an image for your blog post - to then share on social media - it pays to invest time in finding one that is both appealing and relevant to your blog topic. To that end, you may want to take a look at our helpful tips for choosing blog post images.
But bear in mind that you can use other images to promote your blog post on social too. If you've used a graph or infographic as part of your post, consider posting that instead.
If you are going to use a visual other than your blog post image, remember to size it right. The dimensions for sharing images differ across Facebook, LinkedIn, Twitter and Instagram - here's a handy cheat sheet.
3. Use #hashtags
Using hashtags is a simple tactic for boosting your content on social media. It will help you draw people in and encourage them to join your conversation. In order to stand out, use unique hashtags that relate to your brand, as well as a balanced mix of popular and general ones. But don't overdo it - two or three hashtags per post will suffice.
4. Repurpose your content
There's more you can do to promote a blog post on social media beyond simply publishing the link. Consider repurposing your content into an infographic that summarises the key takeaways, or even posting a video. Using video on social media is easier than you might think. Here are some blog posts we've written around the topic that you may find helpful:
5. Tag the writer
Make it personal and tag the author of the blog post. People like to do business with people, so the more you can do to humanise your company the better.
6. Make a plan
Just because you can share your blog posts across all your social channels doesn't mean you should. The way people consume content varies from Facebook to Twitter to LinkedIn and Instagram. And this is why you need a well-thought-out social media strategy.
For each of your social channels, consider the kinds of messages people will want to see and the right tone for delivery. For instance, you may want to be more punchy and light-hearted for Twitter and Instagram, whereas on LinkedIn you may want to be more descriptive and use a more formal tone.
7. Consider timing
Ever thought about when is the best time to promote your blog posts on social media? Unfortunately, there is no silver bullet. And ultimately, it will depend on both your specific audience and your goal.
However, these are considered the 'safest' times to promote your content, according to research by Sprout Social this year;
Facebook - weekdays between 10am and 3pm
Instagram - Tuesday to Friday between 9am and 6pm (Wednesday at 3pm being the 'sweet spot')
Twitter - weekdays between 10am and midday (with a sweet spot of Friday morning between 9 and 10am)
LinkedIn - Tuesday through Thursday (Wednesday between 3 and 5pm is considered the more effective time to post)
8. Share your blog post more than once
It's simple logic that by sharing a blog post multiple times you create more opportunities for your followers to see it - and more opportunities for them to click-through. And the proof is in the pudding - research by CoSchedule revealed that sharing the same social post multiple times can drive up to 192% more click-throughs.
But the key is not to overdo it. Neil Patel has some handy tips for making sure you don't, including re-framing the content each time you share it (see point 1 in this article!).
Carefully crafting a blog post is only part of the battle. To generate leads you need an appropriate distribution strategy. Social media is an excellent platform for sharing your content, but success relies on putting the right tactics in place to ensure it stands out from the crowd.