The ubiquity of spoken content in 2019 is undeniable. Podcasts, webinars, videos and presentations are prolific in marketing and sales, but spoken content transcends industry and sector. We see it harnessed in science, popular culture, psychology, education and so much more.
Not only does it empower you to thrust your brand into the spotlight, but it enables your organisation to cultivate thought leadership and gain a wider audience. For that reason, spoken word should be an integral part of your inbound strategy.
So if you're still shying away from speaking - be that on audio or in public - now might be the time to face your fears.
Experts speak
Public speaking in any form is often correlated with expert status. It allows you to build your profile as an authority in your subject and contributes to thought leadership.
Experts from across the globe take to the stage to present or share their knowledge via webinars, online seminars, or podcasts which helps their message reach a wider audience. We know by now that 'experts speak'.
If your team is regularly sharing spoken content, or giving presentations and hosting webinars, you'll be building a reputation as a team of subject matter experts.
It's inclusive
Different people like to consume content in different ways. For some, listening to an article or book is preferable to reading it. The rise of audio books and podcasting is a testament to that.
If you can give the audience multiple ways to access your content, you have a better chance of broadening that audience. Just look at the proliferation of TED Talks. TED Talks address almost all methods of content consumption. People can listen, watch, or read. Spoken content is easy to subscribe, or layer with subtitles, making it far-reaching and accessible.
It helps conversion rates
Let me hand over to our very own Eric Swain to explain this point to you.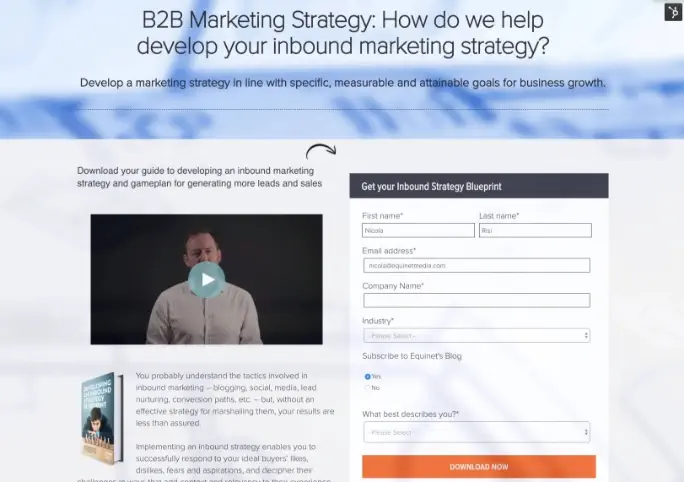 This landing page is accompanied by a video clip of Eric explaining the value behind this particular content offering. The page relies on spoken discourse to further describe its value and why they might wish to download the eBook.
Eric is our Chief Strategy Officer, so who better to offer this explanation than him? Consider how much more 'human' this feels, as compared with a written quote, for example. It provides Eric with a platform to facilitate a relationship of trust with the viewer. And we all know the importance of trust by now as a part of your inbound methodology, and more specifically, conversions.
Gain brand publicity and industry credibility
Carina Duffy of IMPACT tells the story of how she applied to Hubspot's 2017 INBOUND 'call for speakers', with little to no experience in public speaking.
Why?
She knew what it would do for her industry credibility. It's a great story and you can read it in further detail at this IMPACT BND blog.
As she recalls, "In the minutes after my sessions, I got to meet so many people who were excited about and appreciative of the information and thoughts I shared."
She tells of leaving the stage and being overwhelmed with industry professionals congratulating her and thanking her for her speech. Additionally, in the months proceeding the event, she was inundated with LinkedIn messages from her peers.
In this scenario, it's hard to ignore the opportunities of such a successful speech. If that presentation were recorded, it could be used again and again as a part of your broader inbound strategy. Perhaps, it could even go viral. The possibilities of spoken content really are quite prolific, but first you must start by pushing past your own boundaries and volunteering yourself for such opportunities.
Are there any events, conferences or exhibitions that are highly reputable within your industry? If that's too daunting for you, start small. Perhaps give a speech to your organisation around a topic you're passionate about, and see how you feel. You can learn from this experience and gain valuable feedback from your colleagues.
Getting to know your topic
Contemplate your topic carefully and ensure it's something you know on a comprehensive level. Having a simplistic understanding of the topic won't suffice, as you'll appear unprepared, rehearsed or even worse, get caught out when it's question time.
Imposter syndrome can be unrelenting, especially in scenarios such as public speaking. Why make matters worse by speaking on a subject that you're not 100% confident of?
Dig deep and consider every angle during your research. You don't have to go into this much detail when speaking, but knowing the ins and outs makes it easier for you to improvise or take unprecedented turns.
Remember, your understanding of something is measured by your ability to explain it others. Knowing your subject in depth prepares you to speak more coherently, confidently and fluently.
Practice, don't rehearse
A speech or spoken content that sounds rehearsed and read directly from a script will be uninspiring and not very compelling.
Elocution and cadence are not to be underestimated. The ability to speak comfortably and coherently, communicate clearly, and project your voice effectively across a room and to sound good on audio are key to creating a compelling piece of spoken content.
The best speakers deliver their message with cadence, rhythm, and personality. Seldom will they sound as though they are reading from a script, and this is down to practice. Practising what you want to say, how you want to say it, and knowing your topic inside out will be your greatest tools as you captivate your audiences.
As a result, viable prospects and partners look to you for expert advice, seminars, workshops or other audio content.