Discover six essential steps to building successful inbound marketing campaigns.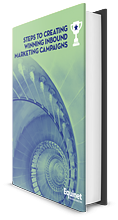 You're clear on inbound marketing: a set of strategies and techniques designed to attract prospects, build trust and authority, earn permission to engage, then nurture interest, develop leads and generate sales. But how do you use these strategies and techniques to create successful marketing campaigns?
Download this ebook and learn how to:
Developing a compelling B2B marketing offer
Design landing pages that convert
Use automation in your lead nurturing
Market your offers to existing contacts
Promote offers via your blog and social media
Measure all aspects of your campaign performance
Fill out the form and we will send you the eBook immediately.