Equinet is delighted to offer you HubSpot's seventh annual State of Inbound report

.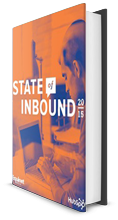 Each year for the past seven years, HubSpot has surveyed thousands of the world's foremost marketers - both HubSpot customers and non-customers alike.
What are their most pressing priorities? Which challenges preoccupy them most, and what tactics have they've used to meet those challenges head-on.
HubSpot has tracked respondents' quantitative answers, collated and consolidated their anecdotal responses, and pulled the results together in this master report: State of Inbound 2015.
For the last seven years, the report has tracked the practice and adoption of "inbound marketing." Instead of blasting out interruptive ads and trying to pull people to your company, inbound marketing uses helpful content to attract visitors and get them to engage of their own volition.
Download the report today and discover the state of inbound marketing today and the reasons why it matters.