Fill out the form and access the information and questions you will need to succeed.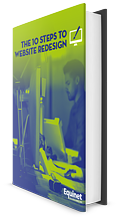 A radical redesign can be a great way to transform your site into a hub of customer interaction and a thing of beauty...
...or it could fail spectacularly!
After all, it's a long and tedious process with more than a few crossroads along the way. That's where a good checklist can make your job a whole lot easier.
Whether you're working with an agency or redesigning in-house, this checklist will act as a map for your road to success and potentially save you from some serious headaches.
Download this tip sheet now and discover:
How a redesign can support and enhance your overall marketing efforts
The data points you will need in order to develop a successful plan
How to identify the channels you should use to drive traffic and leads
What common redesign pitfalls you absolutely need to avoid
Fill out the form and we will send you the guide.