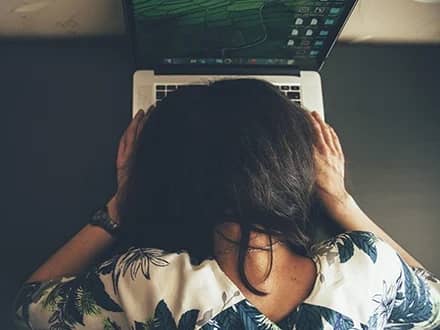 Your website is often the first point of contact between you and your future customers. Therefore, it's vital that it makes a good impression. Otherwise, you're fighting a losing battle from the start.
A study by Microsoft found that humans now have an average attention span of just eight seconds, down from 12 seconds in 2000. By comparison, a goldfish has an average attention span of nine seconds.
With multiple screens and multiple distractions at their fingertips, people have less time for information and websites that don't immediately spark their interest. It's likely that you made the decision to read this post in a matter of seconds.
As a business, you need to ensure that your website captures the attention of the people you most want to reach, amid the huge interruption that is the Internet. That means ensuring that it offers up an enjoyable - or at least useful - user experience from the outset. And the key to that lies in your website design.
Writing for HubSpot, Lindsay Kolowich says: "Poor user experience can cause high page abandonment rates, low visitor-to-lead conversion rates, poor organic search listing positions, and a plain ol' bad reputation."
So if your B2B website design is failing, it's time to take action.
Who are you?
Whether an individual has come across your website during the course of their research, or has purposefully sought it out, it's important to make it clear exactly who you are and what you do. When someone lands on your homepage, there should be no confusion about the nature of your organisation.
Consider outlining your core proposition on your homepage. This is essentially one or two sentences that sums up your business in clear, accessible language. It should get to the heart of why people should do business with you - for instance, what's your USP?
Who are you? Keep it concise. Keep it simple.
The importance of mobile optimisation
If you've ever browsed the Internet on your smartphone, it is likely that you have come across at least one website (although probably more!) that isn't optimised for mobile. This tends to be an annoying and awkward experience as you attempt to fit text and images to your screen.
More Google searches are now carried out on mobile devices than desktop computers. And in April 2015, Google announced that mobile-friendly websites would rank higher in search results than non mobile-friendly ones, so that "users will find it easier to get relevant, high quality search results optimised for their devices".
Therefore, mobile optimisation is really a non-negotiable. If you don't take it into account, it is likely that many people will leave your website almost as soon as they land on it, in search of a better option.
Make navigation intuitive
When someone lands on your website, they don't want to spend time puzzling over how to get from A to B, or trawling through pages and pages of long-winded content to find answers to their questions. Making your navigation simple is one of the best ways to encourage visitors to stay on your website and progress to leads.
Start with your main navigation menu: less is more, so avoid including too many headers. Think about the main topics you need to cover - for example: Home; About us; Products; Pricing; Case studies; Blog; Contact us. You may find that you need to be quite ruthless about what you include - however, you can always add drop-down menus to each heading if you need to refine each topic into sub-categories.
Be creative with images
The picture superiority effect (PSE) shows that pictures help us to remember information. Therefore, images are a great tool for capturing your audience's attention and keeping them engaged.
Whether you use your own images or stock ones, think carefully about how you can lever them to add another dimension to your website. Try to avoid visual clichés - for example, an arrow that has hit the bullseye to highlight that you are exceptional at reaching targets - and pictures that are very clearly posed. Often, thinking outside the box and choosing pictures that conceptualise an idea in abstract terms is more interesting - and more likely to get people thinking.
Make blogging a priority
A business blog is one of the most valuable assets your website can have. More and more people are carrying out in-depth research online before making a purchase - they want to ensure that they are well informed so that they can make the best possible choice. So if you don't have a blog you are missing out on a brilliant opportunity to convince visitors to your website of your high levels of expertise, your knowledge of the industry and current issues, and that you are the organistation to provide the solution they need.
I could write numerous posts about the benefits of having a business blog but, in short, here are just some of them:
Demonstrates your experience, skill and areas of specialism
Addresses your target audience's questions and problems
Drives traffic to your site through keywords and inbound links
Converts visitors into leads
Produces results over time
If you do already have a blog, try to ensure that you post consistently. Each new post creates a new page on your website, thereby maximising your chances of people finding you through online searches. For some further advice and tips about blogging, you might be interested in some of our previous posts on this topic:
We all know we shouldn't judge a book by its cover, but people will judge your business by its website. Therefore, it's important to make website design a priority for your organisation. There's no need to feel despondent if your website isn't currently generating the traffic, leads and customers that you seek. By taking a number of simple steps, you can turn the numbers around.
In an increasingly distracted online world, user experience is the key to success. If people can clearly understand who you are and what you do; if your website is optimised for mobile, easy to navigate and uses images creatively and intelligently; and if you have a blog, you are far more likely to demonstrate that your organisation is the one to pay attention to.