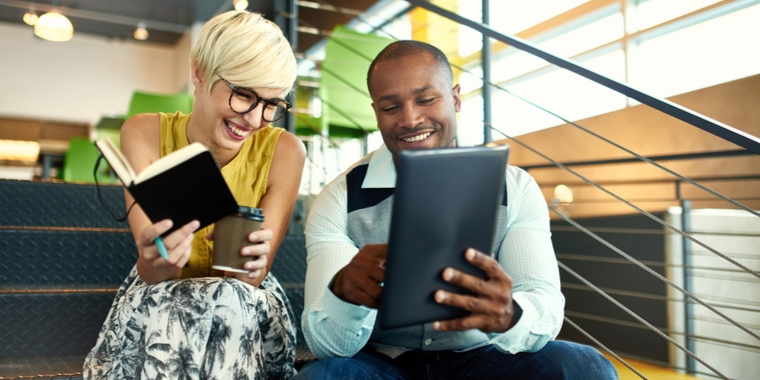 There's a new decision-maker entering the B2B sales funnel.
Curious, socially aware, digitally native and research driven, millennials are more involved in making decisions about which products and services companies are using than ever before.
The B2B Millennial Marketing Report states that 73% of millennials are involved in product or service purchase decision-making at their companies.
By 2020 millennials will represent a third of the workforce so you can no longer deny their power and influence in the B2B marketing sphere.
Simply put, don't let millennials be an afterthought.
In recent years, extensive research and observation has taught us how to tailor and navigate the buying experience to appeal to millennials. Let's take a closer look.
Values and brand benevolence
Social and environmental efforts matter to millennials. Often when seeking a supplier or business partner, they look past the products and services; one of the deciding factors is their social values and if they are aligned with their own. As a socially conscious generation, they care about what a company cares about.
What are your values? Environmentally responsible businesses that demonstrate a corporate social responsibility are more attractive to millennial buyers.
Millennials want to be associated with responsible and value-orientated businesses. Cultural values not only matter when they are looking for an employer but also when they are looking for a supplier.
So, consider your company values, how you represent yourselves online, and if you are in the right region to be attracting millennials.
Digital default
Millennials aren't strangers to using search engines for finding the best reviews, customer reviews, company reviews and product reviews.
56% of millennials use search engines, vendor websites and social media as their avenues for research. Interestingly, a large proportion of those are researching on their mobile devices, which brings us to our next point: 82% of millennials claim that mobile devices are important when researching new products or services - 82%!
I recently read somewhere that millennials are now the biggest cohort on the housing market. Yet to this day, I still struggle to find an email address, app or Instagram account for most Estate agents. Businesses must adapt to the changing expectations of the next generation of buyers.
Make sure your digital touch points are mobile friendly.
Personalisation
Personalisation makes your communication appear more human, and this is favoured by millennials. To do this, you need to anticipate the needs of a particular section of the cohort: their role and responsibilities, their age, gender and preferences. All of which can be used to shape and tailor any marketing communications.
34% of millennials said they need to have a personal experience with a tech brand before making a purchase.
Personalisation also helps to cultivate a relationship with the buyer that cannot otherwise be established through generic messaging.
Chatbots
Millennials are accustomed to global, 24/7 self-service models that are available from some of the top B2C brands in the world. Live chat functions, either manned by employees or a scripted bot are one of the most effective ways to manage this expectation.
Nielsen's Facebook Messaging Survey shows that messaging ranks second out of nine possible modes of communication with business and that 53% of people are more likely to shop with a business they can message directly.
Thought leaders
85% of millennial B2B buyers said too many sales calls and emails will make them less likely to purchase from a brand they're loyal to. Rather, they were more likely to partner with potential suppliers that demonstrate thought leadership and knowledge sharing in the form of informative content.
Industry news and thought leadership was preferred by male millennials over females and training and demos were preferred more by women than men in the millennial cohort.
Millennials prefer not to respond to cold calls and interruptive, outdated marketing tactics.
Creativity
Millennials want visual stimulation and information, and they are attracted to creative brands. Equally, 85% of millennials use social media to research products and services for their companies. If you are not already playing with channels and formats for your content, now is the time.
Technology has made things easier, from how we buy to how we research and even communicate. Ultimately, now is the time to review and refresh your communications strategy so that anything outdated is replaced by techniques that satisfy the millennial appetite.
Innovation, corporate responsibility, helpful content and a dose of daring creativity will help you to influence millennial's purchasing decisions.