Fill out the form and access the information.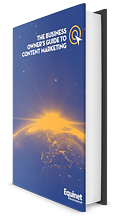 Before making buying decisions, today's customer wants to know and understand a companies products or services before they are ready to speak with their Sales Team. Your content, whatever its format (video, blog post, eBook, social media post), needs to respond to their learning process.
But have you considered what it takes to get modern marketing right? Have you got the internal resource or an ideal outsourced solution; do you have the expertise to devise a workable content strategy and plan the outputs you need?
Download this guide and discover:
how modern marketing generates leads and sales
the most successful content formats
how to devise a winning strategy
how to plan your content pipeline
and understand the common mistakes you need to avoid
Fill out the form and we will send you the eBook immediately.