Managing and maintaining customer data has always been important
However, keeping it clean, updated and helpful has proved a challenge among organisations of all sizes. The problem is exacerbated because the lines between customer experience, engagement, and relationship management are increasingly interconnected.
Data is often manually imported creating disparate data issues. Data lakes and silos are common in many CRMs
Marketing, sales, and service team data tends to be transactional making customer lifetime value harder to analyse
Fast-growing companies need to demonstrate data integrity and privacy law compliance across multiple channels
OEMs today expect to find answers to their questions online. And it would help if you considered the motivation of several key people at each stage of the buyer's journey ('decision makers', 'influencers', 'budget holders', 'blockers'…)
The good news is that these common problems are not insurmountable. This page serves as an introduction to resetting your CRM optimisation strategy to benefit sales, marketing and customer service teams and positively influence sustainable revenue operations growth.
Establishing a CRM data foundation
Even the best algorithms cannot deliver valuable insights from insufficient underlying data. So, CRM structure, process, and hierarchy are essential too. Good CRM data hierarchy typically uses three distinct layers:
A single source of truth
Many combined-source platforms include their own processing and information systems.
For example, an email system can often import large volumes of third-party data, organise data into lists, build profiles, send and manage campaigns. It may be helpful. However, it is an example of a data silo.
Today, most organisations have dozens of systems that process and manage data of varying kinds. These can be called Sourcing Systems, Processing Systems, and Information Systems. Moving data between two systems requires a connection layer (often an API connector).
The need to combine data right across an organisation is pressing because customers and prospects expect a unified, consistent experience across all channels. Consider where the contact is in the customer journey and the existing relationship.
The best way to manage and use all available data to measure the success of campaigns and spot opportunities is to create a 'single source of truth' for monitoring and measuring growth.
A CRM should be your single source of truth. A single repository where all marketing, sales, service, and operations data can be segmented, organised, mixed, and analysed in one place.
Signs you need a new CRM solution
A good data and CRM position is when organisations have a database and synced CRM, a high proportion of matched, validated records, and relatively low data anomalies.
By contrast, it is not uncommon for organisations to have multiple legacies, unmaintained databases, and more data anomalies than matched records.
Eight signs you may need a new CRM solution:
You don't have a single source of truth
You have little or inadequate visibility
Reports are difficult to create/share
Mobile/cloud is not working as required
All customers receive the same priority
Customer records and opportunities are sketchy Data is in a bit of a mess
Your CRM is unwieldy / not working as intended
Ten CRM benefits you might look for:
360-degree customer view leading to a better customer experience
Improved productivity
Increased collaboration across the business
Informs strategy
Enable engagement and insights
Supports data-led decisions
Designed for Go-To-Market teams
Designed for Marketers
Designed for Analysts
Deals with legacy data, CDP, BI,
and CRM systems
Developing a CRM strategy
Building a successful CRM strategy isn't merely concerned with choosing between platforms such as HubSpot, Dynamics, Salesforce, Zoho, or Pipedrive. You need to select the right technology and create a CRM strategy to meet fundamental business challenges that scale over time.
Here are the critical steps to building a fit-for-purpose CRM strategy battle-plan.
Six guiding principles to protecting ROI
Developing a new CRM strategy is a significant time and investment step in any organisation. By keeping the following guiding principles in mind, you should better protect ROI:
Choose a Cloud-Based CRM solution
SaaS models mean you don't need to worry about servers or software upgrades.
Integrate with Apps that provide value
The best CRMs have native integrations and APIs offering access to hundreds of useful tools.
Stay mobile
Emails, engagement, managing contacts, back-office systems, social networks, web conferencing and more, can all be mobile.
Align marketing, sales, and service teams
360-degree customer views are whole of life focused and not transactional.
Let your new reports be the heartbeat of your business
A fit-for-purpose CRM will create the correct reports and empower line managers to act.
Focus on customer journeys and delightful experiences
Sustainable revenue models focus on the whole of life customer relationships, loyalty, and lifetime value. Up-sell and cross-sell can only be achieved by abandoning transactional thinking.
CRM implementation
CRM implementation can be complex and take anything from 1-24 months, for example, working in stages. Simpler implementations (event CRM database for example) can take 2-6 weeks including Open API integrations. At a conceptual level, implementation can be viewed as: 1. Gather requirements, 2. Review and agree on a scope, 3. Project build, 4. Data import, 5. Test and train, 6. Go live!
However, in reality, for successful CRM implementation, your roadmap comprises four key phases:
Sales process and leads
- Understand the sales process
- Reconfigure lead ownership Define deal stages (New / Existing customers)
- Define contact / custom properties
- Describe whole of life customer journeys Customer-centric internal SLA


Move data into the CRM
- Back-up your data Clean the data
- Discuss errors and omissions
- Move data in blocks


Buildout and improve workflows
- Build lead routing automation
- Check / improve lead scoring
- Build custom lead views
- Build custom lead reports
- Set up ABM campaign and tools


Monitor systems and data
- Define your data management policy
- Finalise a data processing policy
- Set cleanliness, health parameters and purge policy
- GDPR and privacy law compliance
- Change control documentation
(Source: HubSpot / Equinet)
Top tips
Assign a client champion who owns the CRM implementation project and leads QA. Refer to the glossary (back of this document)
Form a supervisory committee of (1) decision-maker (2) accountable stakeholders, (3) responsible stakeholders (PMs, consultants, technical experts, marketing, sales, customer success managers, and others will be involved)
Use Playbooks to bring colleagues along and keep departments focused
Keep goals SMART (Specific, Measurable, Attainable, Relevant and Timely)
Define success for the project carefully
CRM integrations
What are CRM integrations?
Integrations connect your software to third-party applications so they can share information. They share data from one system to another, providing more features and options while using your CRM software.
Why use integrations?
Integrations solve and simplify your need for new software as your organisation scales and evolves. Sound CRM systems have third-party apps to enhance system functionality and provide new tech-enabled practices.
HubSpot's App Marketplace, for example, has one of the largest and broadest native integrations and API options. Over 900 integrations and apps are categorised by department and interest. Over 315 are free (January 2022).
Popular integrations include: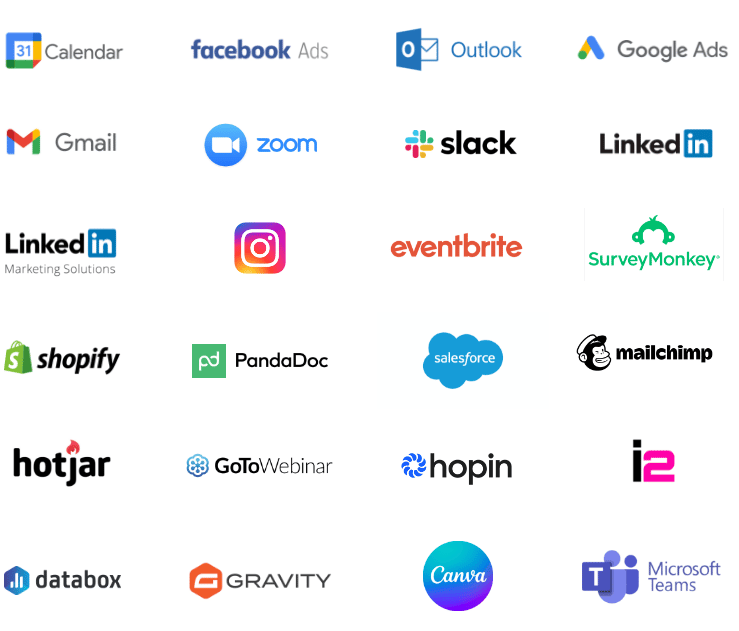 What about revenue operations?
Data is quite often the trickiest part of establishing a revenue operations strategy. Success requires a solid data foundation and the sharing of data.
Meaningful KPIs will vary between organisations but may include;
Key customer order value vs. forecast
The lifetime value of a customer
Marketing-qualified leads
Sales-qualified leads
Volume and value of the qualified pipeline
Major opportunity conversion rate
Customer service scores
Net promoter scores (NPS)
Customer onboarding scores
Loyalty programme metrics
Over time, you may want to segment opportunities by 'Strategic opportunities' (sales-led and marketing-supported), 'Tactical opportunities' (key target accounts will be marketing-led and sales enabled), 'Rest of addressable market' (will be segmented by product, service, spend and perhaps 'defend and hold', 'build and develop', 'lapsed', 'long tail'. All need managing through and with a CRM.
Let's return to the flywheel and single source of truth – the CRM.
All of your people, processes, technology, and data play a role in whether leads and customers buy from you. With alignment and all departments working together, you can focus on customer journeys and lifetime value.
With it comes profitability, enduring relationships, and customer advocacy.
A CRM is critical to organisations generating revenue
Good CRMs empower departments and those with P&L and client-facing responsibility to make good decisions. A sound CRM system supports this and utilises critical metrics, dashboards, and insights to help revenue operations teams.
HubSpot CRM & use case examples
HubSpot is a CRM platform. It has surpassed 130,000 paying customers and has reached over $1 billion in annual recurring revenue.
It tracks customer relationships and facilitates marketing, sales, service, and operations processes. It's a top-10 global CRM partner for scaling organisations (start-up, through to Enterprise) in over 100 countries.
The software platform combines Marketing Hub, Sales Hub, Service Hub, CMS, Operations Hub, and 900+ integrations. HubSpot is a single source of truth for managing customer relationships, with an effortless user experience (UX). It was designed to help ALL internal teams gather meaningful insights, report and share success and insights, create remarkable customer experiences, increase adoption, and delight segmented audiences throughout the buyer's journey.
Example use case – alignment of data
HubSpot syncs every interaction that occurs between you and a contact to that contact's lifeline. This produces a single source of truth for every member of your team, from sales to marketing, service, and operations.
Example use case – Account-Based Marketing
Getting your ABM strategy set up using HubSpot tools is intuitive and fast. Workflow templates define your ideal customer profiles and identify good-fit accounts. Default properties tag accounts and buying roles. Contact properties are comprehensive, and you can always supplement with custom properties. AI-powered analytics provide recommendations, so sales never miss an opportunity. Content Management System, Sales, Marketing, Service is all built on ONE platform which sits within your CRM. Marketing and Sales can finally collaborate, share tools and unite around the same data in the same place.
Are you clear about how central CRM software stacks up, use cases, and objective comparisons?
Summary
CRM systems are critical to the continued reporting of crucial data and the delivery of timely insight that supports sales enablement and customer engagement.
They play a pivotal role within your organisation. Their primary purpose is to delight customers and support revenue growth.
A good CRM solution will unify sales, marketing, service, and operations around the customer and support revenue operations. It will support customer retention through customer-oriented processes.
A good CRM should;
Enable segmentation, personalisation, and automation that transforms marketing effectiveness
Facilitate sales enablement to shorten the time between 'first touch' and 'sale won'
Drive customer service functions
Support operations by creating a friction-free customer experience and operating insights
The future of CRM is about how organisations respond to data, customer acquisition, retention, and delighting customers
Leading global providers include Salesforce, Adobe, Oracle, SAP, Microsoft, and HubSpot. Equinet is one of the UK's oldest HubSpot Partners (HubSpot certified in 2011). We've implemented projects for over 120 organisations. We'd be happy to discuss your CRM challenge, options, and a roadmap to a reset, migration, or implementation.