Content is the fuel that drives effective inbound marketing
Creating content that resonates with your ideal customer, at the right time, in the right place requires careful planning as well as good copywriting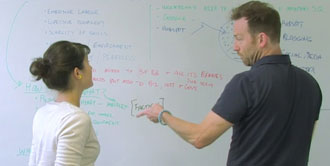 A modern marketing funnel looks increasingly less like the classic cone shaped visual analogy we've all become used to (today it probably looks more like concentric circles). But the old funnel interpretation is none the less useful in illustrating the types of content that work best at each stage of the buying cycle.
According to research, the average prospect receives ten marketing touches through the course of a successful buyer's journey and, as buyers conduct more research online, it's more important than ever to add value to each step of their experience of connecting with you.
To ensure that your content generates and nurtures leads you need content mapping. The aim is to target content according to both your buyer personas and their lifecycle stage.
The key lifecycle stages are:
Awareness: A person has recognised a problem or need, and they are researching or looking for information that will help them.
Consideration:

That person has defined the problem or need and they are actively looking for solutions now.
Decision:

Now t

hey are whittling down their options to make a decision or purchase.
By considering content in terms of both buyer persona and lifecycle stage, you can map content that is more relevant and resonant for each of those segments and help move prospects through the buying process. And typically, you can map your content into top, middle and bottom of the funnel assets.