Fill out the form and access the information you will need to succeed.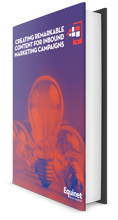 From social media updates to blog posts, eBooks, videos, webinars, and more, you need to publish remarkable content that will help get you found online using the search engines and social media people use to learn about the products and services they consume.

When done well, this content will improve your search engine ranking, drive new traffic to your website, steer prospects into the top of your sales funnel, generate leads through the middle of your funnel, and drive marketing qualified leads to the bottom of you funnel, ready for sales to convert into customers, ideally for years to come.

Download this eBook and find out how to:
Develop an editorial strategy to attract new business
Understand the four steps to creating successful content
Learn how to come up with content ideas to attract leads and convert them to customers
Fill out the form and we will send you the guide.