Fill out the form to access your eBook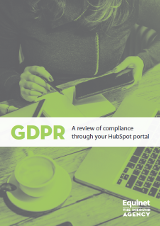 As a marketing professional and HubSpot user, GDPR will already be well on your radar.
This guide takes you through some of the key areas you need to consider to ensure your inbound data collection and processing is GDPR compliant before 25th May 2018.
Download this eBook to:
Explore what first steps you should be taking towards GDPR compliance
Consider how to choose the right lawful basis for your data processing
Discover how HubSpot can help you resolve key compliance issues
Fill out the form and we will send you the guide immediately.