What will you discover in this eBook?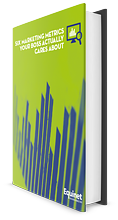 How to really prove the ROI of marketing. As a marketer, you work tirelessly to map and measure across a whole range of metrics.
But when you are up against studies showing that over 70% of executives question whether marketing drives demand and revenue, you have to make sure you can prove the ROI of your marketing efforts.
Do you know which metrics really matter to your boss? With this tip sheet, we share six metrics that do.
In this brief tip sheet, you will find:
Six marketing metrics that will prove the value of your marketing
Formulas and practical examples that will help you calculate those metrics
Why these metrics are important and how to interpret them
Fill out the form and we will send you the eBook immediately.