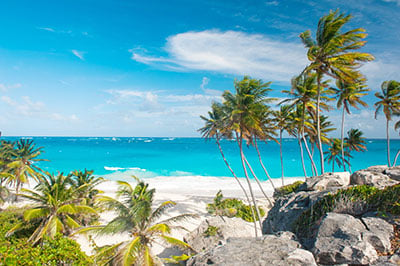 Imagine you're using Google to research the best beaches in Barbados. You come across two blog posts on different travel websites: one describes the paradise-like coastline in vivid detail - but it includes no pictures; the other contains minimal detail but a series of stunning photographs.
Which one is more useful?
Most likely, the second one.
It gets your attention - because the brain processes visuals 60,000 times faster than text.
And the picture superiority effect (PSE) shows that pictures also help us to remember information.
If you read a piece of text you will remember around 10 per cent of it three days later. But if it contains an image, that will increase to 65 per cent.
So, although the first blog post may be well-written, it is the second one that will stick in your mind.
You're more likely to return to it and take the next step towards booking your holiday.
And that makes it a more useful piece of content.
The importance of using visuals in the marketing mix
Visual communications – whether photographs, videos, illustrations or infographics - play an integral role in the marketing mix.
They help you to connect with your ideal customers.
Joe Chernov, HubSpot's content marketing leader, says: "Creative, visual content converts prospects into customers, period.
"Look at your latest piece of marketing content and ask yourself: Can I understand this in a 'blink'? Does it compel me to read it? If the answer is no, start thinking about design."
Great visuals provide a focal point for a blog post, eBook or the like, drawing the reader in and illustrating what the content is about.
Chernov was previously VP of content marketing at Eloqua (the marketing automation company that was acquired by Oracle in 2012).
In 2010 Eloqua was relatively unknown. But that year it published the eBook Social Media Playbook, which included an infographic called The Content Grid.
As a result, traffic to Eloqua's corporate website increased 43 per cent; they received 12,000 visitors to their blog; and over 30,000 people viewed or downloaded the content.
But images not only make content stand out - they also help the reader remember it.
Research carried out by MIT last year found that people can identify an image viewed for just 13 milliseconds.
In 2013, Michael Port republished his bestselling marketing tome, Book Yourself Solid, in a special illustrated edition.
Thousands of people had told him that they struggled to finish the original 92,750-word book about how to get more clients for your business.
And if they weren't finishing it, then Port wasn't achieving the desired outcome of his content – getting people to implement his strategies.
Writing on Copyblogger, he said: "In the original, it took me 20 pages to teach you how to create an information product. In Book Yourself Solid ILLUSTRATED, I do it with 5 images.
"Of course, I still offer some supporting text, but the combination of those two learning tools - text and visuals - helps you retain what you've learned so you actually use it."
If your ideal customers reads everything you've written and remembers it, they're much more likely to progress along the path to purchasing your goods or services.
Using visual communications in practice
But using visual communications isn't just about adding images to text.
You only have to look at the popularity of social media platforms such as Instagram and Pinterest to see the power of the visual in its own right.
And just this month the results of a study carried out at Bangor University showed that Emoji – the pictorial language used in text messages and across social media - is being adopted at a faster rate than any other language.
Tom Ollerton calls it the "world's first global language".
This may seem over-the-top but it shows how important the visual is. Images can help your business to connect with customers all over the world, transcending geographical boundaries and time zones.
And creating effective visual content can be incredibly simple.
These are just a few of the steps your business can take:
Include images in your blog posts.
Consider how your company might use Instagram or Pinterest.
Create infographics to summarise your services.
Use images in your Tweets and Facebook posts.
Make your website design more visually appealing.
Post video content on your website and social media accounts.
To inspire you further, here are some great examples of companies using visual communication successfully:
1. Virgin Atlantic
It's easy to come up with great visual content when you work in the travel industry, but the airline still does a brilliant job.
The company's blog focuses on Virgin Atlantic's destinations. It contains an abundance of photographs, which illustrate the topic of each post and break up the text into easily digestible chunks.
Meanwhile, its Instagram account centres on customer service. It predominantly features pictures of staff, as well as quotes and videos detailing customers' experiences.
2. Dell
The computer technology company's blog, Direct2Dell, covers topics ranging from industry news, to company events. Each post has a relevant image – and often a video too.
Dell's Instagram account showcases its products in action and also invites you behind-the-scenes at events.
3. Whole Foods Market
The organic food supermarket chain's blog, The Whole Story, is often updated several times a day. Every image is beautifully shot and posts vary from recipe suggestions, to advice on health and nutrition and relevant news.
Its Instagram account contains not only images of its products, but also vintage-style photographs that fit in with its overall branding.
Visual communications are a key element in a successful marketing strategy, allowing you to connect with your ideal customers.
Including photographs, videos, illustrations, infographics or the like in your content helps your business stand out from the crowd and makes visits to your website and engagement on social media more interesting and memorable.
And if people remember you, they're far more likely to become customers.