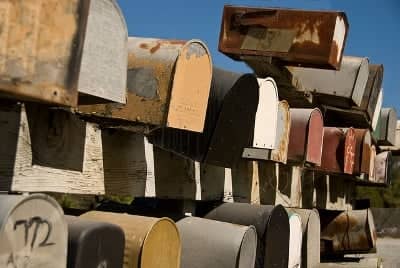 Email is easy, right? You design your campaign, your content is penned and you have included the offers that you want to highlight to your contacts, and now it's time to hit send. No, not quite yet!
Done well, B2B email marketing is a highly efficient and cost-effective means of generating new revenues, repeat business and stronger relationships with your clients. But done badly, as we all know, it is an area of marketing that is shrouded with risk: risks around your reputation as a purveyor of interesting, useful content ("that link is broken"); risks around your spoiling your relationship with your clients ("my inbox is drowning…!"); risks around your relationship with ISPs – with the danger of being black-listed if you are sending large volumes to an un-opted-in mail - the worst outcome here.
So, how can you ensure that the emails you send do not fall foul of these inherent hazards, and achieve the engagement, interest and response that you desire?
Here's a checklist of 5 things to reflect on before you hit the send button:
1) Design matters
Designing for email is quite different to designing for any other area of marketing. Whilst it's true that a successful B2B email campaign is made up of numerous components, the hardest work comes in ensuring that that email translates across numerous email clients. As Campaign Monitor states in its guidelines for this area: "Permission, relevance, timeliness and engaging content are all important. Even so, the biggest challenge for designers still remains building an email that renders well across all the popular email clients."

So, on top of taking care that your campaign design reflects your brand and relates to your website look and feel, you should check that your email designers really know what they're doing in this medium. Ensure that they adhere to best practice by:
finding the right balance of text to images (and that emails will be understood where images are blocked);
delivering compelling calls-to-action above the fold;
remembering to design and test your campaign so that it renders across all email clients (desktop, internet-based, device-based);
creating responsive campaigns, cognisant of the growing use of mobile devices. According to statistics from Litmus, more email is read on mobile than on desktops, with 47% of email now opened on a mobile device (Litmus Email Analytics, April 2014).
2) Copy that converts
A key part of your campaign is the copy you use to promote your offers. Make sure you keep the following helpful pointers in mind when copywriting for email:
the wrong subject line can make or break a campaign – research has shown that personalisation and timeliness can lead to improved open rates, whilst "free" offers, reminders, and overly long/ complex subject lines have a negative impact;
keep your body copy succinct and to the point: think short sentences, paragraphs and bullet points, which can assist readability and scanability for the recipient;
use text creatively to work in harmony with your CTAs – use simple, compelling words for links/buttons that will encourage recipients to click;
consider using dynamic content to increase the ROI of your campaign, so that different groups of contacts can receive specifically-targeted content, such as tailored offers, personalised copy or calls to action, or bespoke email sign-offs from contacts known to them.
3) Test and test again
Professionals in the field who provide managed email marketing on behalf of their clients will tell you the most important part of managing that campaign is the testing. There are a number of different aspects of testing to consider:
most email marketing platforms, like dotmailer, will let you send yourself test versions of your campaign, so that you can review copy and design, check links and CTAs are working, etc.;
there are also some excellent email testing tools, such as Litmus, which allow you to preview how your campaigns will render across all the major email clients, from desktop applications, like Outlook, to web-clients like Gmail and mobile clients, like iPhone - this type of testing can help you reduce errors and ensure accessibility for recipients;
similarly, there are additional tools which check your campaign against all the major Spam filtering programmes, again helping to increase the deliverability of your campaign;
you could also consider using a split-testing tool to simultaneously test different subject lines in a campaign, analyse the results over a set time and then switch to the best performer for the rest of the life of the campaign.
4) Trust and permission
Clean, permission-based, up-to-date data is at the heart of successful email marketing. With your reputation as a legitimate and competent sender paramount, your contacts should be made up of those clients with whom you already have a relationship i.e. as leads, subscribers, existing customers, etc., or else those who have given their permission to be contacted by you.
B2B email marketing these days it much less about the volumes of email sent, and much more about improving response through highly segmented, targeted and personalised communications. In short, it centres on trust, relevance and value. With those three elements in mind, we suggest you:
clean your data at each campaign for any hard bounces, redundant domains, and duplications, and remove ISP complainants, so that you do not end up on black-listed senders list;
consider acquiring a custom from address for your email marketing, readily recognisable as your company but separate from your transactional (everyday email) domain;
consider using personalisation (and/or dynamic content) when sending your campaign, so that your mailing comes into the recipient's inbox from a "friendly" or known sender;
implement an opt-in strategy for gaining permission from new prospects and clients, to constantly replenish your database;
and, of course, include an obvious unsubscribe link in all your email marketing, and be sure to remove all unsubscribers each time you send a new campaign. Most good email marketing platforms will do this automatically for you.
5) Reporting and analysis of your campaign
Sophisticated email marketing platforms these days offer access to a suite of reporting tools, giving full analysis of the performance of your campaign and how recipients engaged with it. They can track recipients' behaviour through to your website and conversion pages, and give full path reporting on who opened your email, clicked through to your site and where they went. Use this detailed information to your advantage by:
being clear where your campaigns are meeting with success and where they are not;
identifying popular content and responsive recipients, by understanding the links/calls-to-action clicked;
noting potential opportunities by looking at emails viewed and shared by recipients;
responding in a timely fashion to individual replies from recipients;
generating lists of leads for triggered follow-up and/or other automated campaigns.
Email marketing is inherently accountable, with the benefits (and the risks) demonstrable in tangible terms. So before you hit send, ensure you use these checks and balances to make sure your campaigns achieve their optimal potential for both you and your recipients.
Image by Greg Jordan