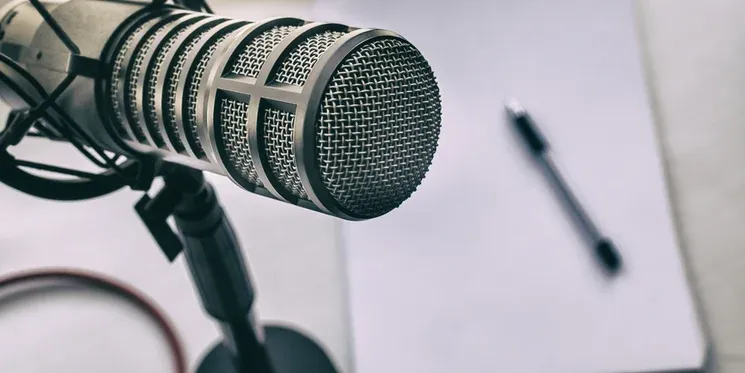 In the crowded world of the internet, companies are recognising the importance of becoming a media company and creating more informative, engaging, and compelling content that will help them to attract and retain customers. And the podcast medium is the newest big opportunity.
There has been an enormous surge in people listening to podcasts in recent years. In the UK, there are now 5.9 million people tuning into a podcast each week - compared to just 3.2 million in 2013.
Everyone from celebrities and journalists to broadcasters and marketers are recognising the ripe opportunity to engage an already captive audience.
In the B2B marketing arena, just shy of 1 in 5 companies are already embracing podcasts as a way of reaching this engaged audience with long-form content.
You might think that only big companies with large budgets can create podcasts, but that's not the case.
Why start a podcast?
Podcasts present another content format, outside of written and visual content, for companies to connect with prospects and customers. Much of the appeal of podcasts is that they are easy to consume. People can listen at home, on the go, in the car, at the gym, and even at work.
What's more, podcasts allow you to create a more intimate connection than you could with a blog post, for example. As CMI's Robert Rose says, "Being in someone's head when your voice comes through those headphones is a wonderful experience. It creates a connection that other mediums can't make."
Exploring a different medium also allows you to exercise your creativity, and your regular blog readers are likely to be intrigued by your new approach.
Podcasts can expand the reach of your content as some people will prefer to listen to audio rather than read a blog post or watch a video.
It can be easier to put across your personality – and the brand values of your organisation – in a podcast. Done right, they can elicit interest, laughs, and, most importantly, a desire to find out more – all of which can deliver new leads.
How to launch your podcast
1. Research
Before you jump right in with the first idea you have, take some time to listen to some podcasts related to your industry that are already out there (if you aren't listening already). This will give you an opportunity to suss out what works and what doesn't.
2. Plan
When planning your podcast, you first need to identify a theme or concept. For example, you may decide to focus your podcast on discussing the latest industry news or trends, interviewing industry experts, or educating people on topics related to the industry. When choosing your theme, think about your buyer personas and what they would find most interesting or helpful.
You'll want to brainstorm ideas for podcast episodes that relate to your theme - just like you would when planning your blog calendar.
Next, you'll need to decide on a format for your podcast. These are just a few ideas of how you could structure it:
Solocast
Interview style
Panel show
Storytelling
Conversational
Reporting
Hybrid (a mix of the above)
Other decisions you'll need to make are:
What will you call your podcast?
How long should each episode be?
Who in your network can you reach out to for interview?
How often will you release episodes?
How many episodes do you intend to make?
Finally, it's a good idea to create a publishing schedule.
3. Get set up
Creating a podcast is far easier than you might think.
A podcast is essentially an mp3 (or similar) file made available for download. There is a lot of really sophisticated equipment out there, but it can come with a hefty price tag, and just isn't necessary while you're getting started - so you can stick to the basics.
Essentially, you only need three pieces of equipment:
A computer with broadband access (or you can even use your smartphone)
A microphone (just a really good USB microphone, like this one from Amazon, will provide great audio quality)
Headphones
Alongside this equipment, you will need some software to help record and edit your podcast. There are many free options available, such as Adobe Audition and Audacity.
If you're doing interviews, software that records calls can also be useful. Callnote can record calls on Skype, Google Hangouts, Facebook, GoToMeeting, and Zoom, and works on both PC and Mac.
You will also need to decide on a hosting service for your audio files. There are many free and non-expensive options available, including Libsyn, Hipcast, and Anchor.
Finally, you will need to put together the information you need for your podcast listing. This includes:
Artwork - make sure it looks both attractive and professional
Podcast name - listeners should know what the podcast is about just from the name
Podcast category - choose a category that best suits your theme (if you're unsure, look at the podcast categories on iTunes)
Podcast description - optimise your podcast for search by including relevant keywords
4. Record
Before you sit down to record a podcast episode, make sure you have your notes, interview questions, or any other important materials in front of you. If you're doing it at your desk, clear some space, shut the door, and make sure people know not to disturb you. You need to be completely relaxed and focused.
If you mess up on a point, stop, compose yourself, and start again. You can always edit it afterwards. It's best to be as prepared as possible, but try to avoid reading from a script - it's a podcast, not an audiobook.
Most importantly, be yourself. Don't be afraid to show your personality. You want it to feel authentic so that your customers and prospects can connect with you. And lastly, don't worry about things like what you sound like - everyone hates the sound of their own voice!
Once you've recorded (and edited) your podcast, you can upload it to your hosting service, who will give you something called an RSS feed. This contains all the data about the episode, including the title, artwork, description, and .MPS file location.
Once you have your RSS feed, you can submit your podcast to iTunes (the largest podcast directory), Stitcher (the second largest directory), SoundCloud, or YouTube. All of these directories provide simple instructions and are easy to use.
5. Promote
To get people listening to your podcast, you'll need a clear promotion strategy - just like you would with any other content format.
You want to create a buzz around the launch, so treat it like you would an event. Get talking about your podcast before you release it.
Create a landing page for your podcast and strategically place CTAs on your website. Write a blog post introducing your new venture, and promote it on social media. You could use quotes from your first episode to draw people in.
Be sure to let people know that you intend to do more than one podcast and when new episodes will be released so that they can look out for them. You could even start by launching two or three episodes together.
And, of course, once your podcast is out there - keep promoting it. Your current readers are likely to be intrigued and excited at your expansion into podcasts, and it should hopefully attract new prospects too.
6. Measure
As with any other piece of content, make sure you measure the results by tracking the number of downloads and subscribers. Read reviews too, it could help inform and inspire ideas for future podcast episodes.
Most podcast hosting services, Lybsyn for example, help simplify the tracking process for you. But for more technical information about tracking your results, this article by Whole Whale is really useful.
If you want to find out more about starting a podcast, this guide by Shopify gives some really detailed advice. And if you're an avid podcast listener yourself, EntrepreneurOnFire founder John Lee Dumas delivers a free educational course that can be downloaded as a series of podcasts.
But, if all this seems a bit much and you're not ready to dive into the deep end just yet, why not think about appearing as a guest on an existing podcast? Take some time to research popular podcasts in your industry and ask customers what they are already listening to. There may be something already out there to which you could add value and that could help you to build confidence.
Podcasts are a great way to intimately engage with your target audience on a deeper level, and hopefully this guide has proven that podcasting is easier and less expensive than you may have thought. However, it is still a big investment in terms of time. So it's not for everyone. But if you can invest the time, the ROI can be huge.