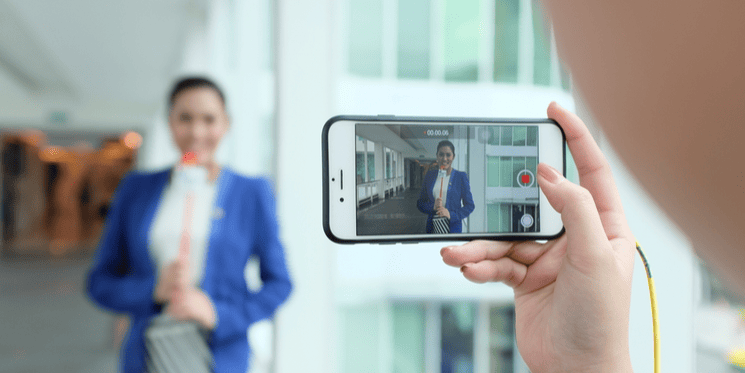 To date, there are 25 million business profiles on Instagram.
70% of Instagram users use the platform to check out a brand they're considering and 35% check their feeds multiple times a day.
On top of that, 400 million people use Instagram stories daily and one in five organic stories from businesses gets a direct message.
So for the sake of this post, let's focus solely on the Instagram stories feature. A new tool that allows you to instantaneously connect with your viewers through the use of a whole host of creative and interactive add-ons that can help you inject individuality into the social representation of your business.
We're already well accustomed to photo-sharing as a concept. Photo-sharing apps, including Instagram, have become a social phenomenon for individuals and businesses alike.
But the ephemerality of the stories feature, meaning that your content will disappear after 24 hours, is prompting businesses to experiment with new tools and varieties of content.
Instagram stories can be used as a vehicle for daily contact and interaction with your followers, or in some cases, prospective followers.
There are many avenues of creativity that can be explored with the stories feature. We will discuss a few of them in this post so that you can leverage this fresh social tool to build your online audience, generate leads and drive conversions.
Basic housekeeping
If you're already well-acquainted with the platform and a regular story user, you might want to skip to the next section.
For those of you who are new to this tool, let's start with the basics. As a business profile attempting to generate new leads, it's best practice to always ensure your app is updated to the latest version so that all of the latest features are available to you.
Secondly, you'll need to ensure you are set up as a 'business profile'. This means all of the Instagram story analytics and business tacking tools will be available to you. Note that to create a business profile, you must already have a Facebook account set up for your business. To switch to a business profile, click on settings and 'switch to business account'.
Having a business profile also gives you the ability to create promotions and add your contact details to your profile, so prospects can easily get in touch.
Additionally, you'll also want to ensure your privacy settings are set to a public profile, so your profile is still viewable to those who aren't following you. You can manage further privacy settings behind the 'Privacy and security help' button in the settings menu.
With 94 million posts per day, you'll need to invest time and resource into staying engaging and relevant enough to stand out. Some other unwritten rules for success include using high-quality images, legible fonts, regularly responding to (genuine) instant messages, and being consistent with your posting schedule.
Live stories
With the stories feature, you can choose to post a live story. Live stories are prevalent in the businesses and influencer space, as they give you the chance to directly address issues, questions and concerns that your prospects and followers might have. Live stories are often used by brands for direct interaction with say, an influencer or a CEO, for example. This could be an opportunity for your followers to have some one on one time with your CEO.
Perhaps the reason it is so advantageous for businesses is that it enables you to humanise your brand, which is a far cry from the elusiveness of automated posting. Your followers will appreciate knowing that real people are behind the camera, and ultimately, behind your brand. Likewise, you might wish to post a live story of an event, a seminar, or exhibition that is happening right now. However, they should be used sparingly and only for exciting events, announcements or live Q&As.
Behind the scenes content
Similarly, using the stories feature to post behind the scenes content of workshops, exhibitions, seminars or even day-to-day office life gives followers insight into your business culture.
What type of people are you? Do you take yourselves seriously or do you inject fun and light-heartedness into daily working life?
The answers to these questions can sway other businesses towards building a partnership with you. But be true to yourselves. Users will see through attempts to portray yourselves as something you're not.
Oh, and don't worry too much about always having your Instagram app open ready to post. The stories feature enables you to upload to your story from your camera roll, so you can post saved images and videos from a backlog of content if you so wish.
Ask me anything
This cool feature was added only a few short months ago and is essentially an interactive button that allows viewers to type in an anonymous question to your brand. You can then select those you feel will be of most value, share and answer them publicly. The beauty is if you can identify a question that likely many prospects have and address those queries instantaneously, playing into the instant gratification of our digital generation.
Get creative
Labels and gifs, interactive stickers such as polls and emoji sliders are all available with the story feature. The beauty is you can experiment profusely until you find something that works, albeit within reason. Instagram will not penalise for the quantity of content in your story, so play about with fonts, buttons and gifs (within reason, of course!), and see if you notice any surges in interaction based on those.
Location-based posts
A new feature enables location-based stories to make their way onto the explore page. This means if someone is searching a location - whether that be a town, city or landmark - your story will be viewable. This is great for brand exposure, and a fantastic promotional tool if you are visiting another city for a client meeting for example, or travelling to meet clients, for a show or exhibition for example.
Saved stories
Despite their public ephemerality, Instagram will save all of your previous stories. This is great for businesses since your top performing content can be saved to your profile. This means that when followers or prospects visit your profile, they can revisit or watch historic stories you have chosen to save to your profile. This could be those that have performed well in the past, resonated with viewers, or generated lots of engagement.
Bear in mind that these should be treated as a taste of the kind of content you post - an advert if you like - into what prospective followers should expect from you. So only post those that provide value, information or entertainment.
Business tracking tools and analytics
Note that the analytics tool is only available once you switch to a business profile.
Story analytics provide insight into which stories are performing best - in other words - which stories resonating most with your viewers.
Use these statistics to influence and inform your choice of content. For example, take a look at your top performing stories - what type of content do they use and which concepts do they have in common? What is resonate with your audiences and generating the most engagement? What do your top performing stories have in common?
Add value
Stories can also be used to introduce new products or services, new employees or share links to blog posts. Whatever you do, remember to add value. Always fill your stories with entertaining, visually stimulating and informative content otherwise users have no incentive to stick with your story. It's as easy as one tap to click away onto the next.
Instagram is capitalising on the popularity of ephemeral content, and our evolutionary drive to seek instant gratification. Business can tap into this by using stories to nurture relationships with their online audiences, with the objective of generating leads and sales.
The power of 'storytelling' is no secret. We've been using it for thousands of years, and it's a well-known technique used by salesmen and marketers alike.
But that's not the only reason it's proving to be the most prolific platform for businesses.
Exceeding other platforms by perfectly blending the social and commercial worlds, Instagram is a place where both individuals and businesses can represent themselves in an engaging and interesting way while interacting with others and finding exactly what they want.
Give Instagram stories a go today, and see how it impacts your social metrics.