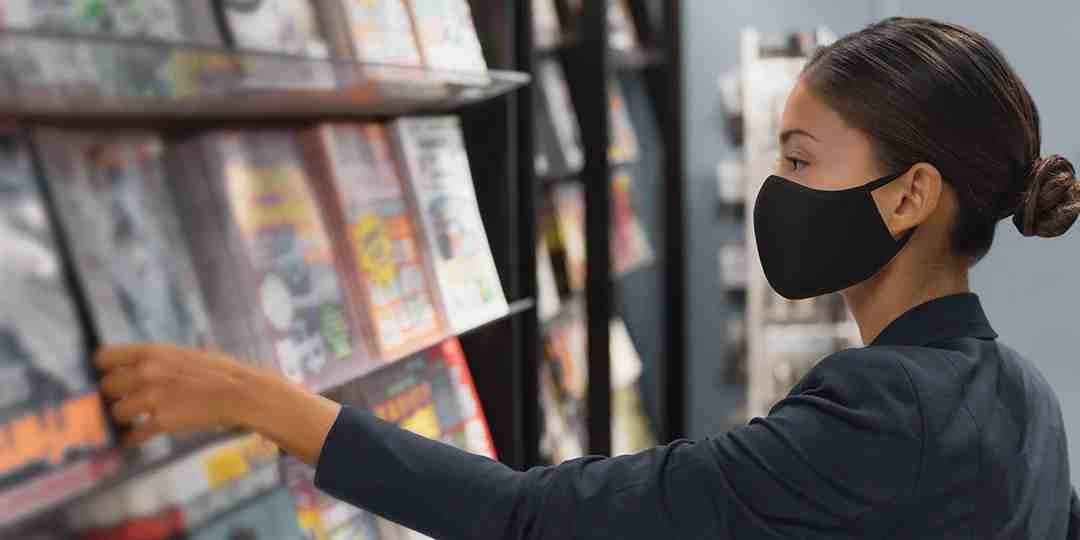 The digital transformation of our lives has swept all before it and radicalised how we transmit and receive information and how we view and store information.
Digital communication is the predominant way we now receive our news, messages, and entertainment.
With its roots in analogue and ink on paper, has the time now come to declare print dead? Is it time to bury it, along with fax machines, VHS tapes and punch cards?
It turns out that print is still alive and, depending on use, even thriving. And there is a solid case for marketers to continue including it in their arsenal of marketing solutions.
The Decline in Traditional Print
Like almost every other industry in the past hundred years, new technologies have transformed printing.
After working for centuries using metal type, the introduction of phototypesetting in the 1950s and 60s started a rapid transformation process, leading to CRT typesetting in the 70s and eventually to the desktop publishing revolution of the 80s.
A combination of three technological developments enabled this desktop publishing revolution: the Apple Macintosh computer, the Apple LaserWriter printer and the page description language PostScript, developed by Adobe.
This meant that anyone (with appropriate training and aptitude) could use early programmes such as Aldus PageMaker (the forerunner to Adobe InDesign) to create printed documents.
The impact of this has been far-reaching; typesetting companies became bureaus and eventually died out as files were sent straight to the printer rather than be typeset and art-worked first.
Users themselves now printed smaller jobs sent to a printer in the past.
Over time, software became more sophisticated, and with the widespread adoption of email for communication, even newsletters and direct mail moved to digital. There were clear advantages; electronic communication was instant and virtually free.
The Impact on Publishing
The digital age has had an enormous impact on traditional media in the wider world. Over the past two decades, the print circulation of newspapers has nose-dived, in most cases halving in number, and a few, such as the Independent, moving wholly online and giving up print production altogether.
This led to some pundits, back in 2015, gloomily predicting that there would be no newspapers at all by 2020. Whilst we haven't reached that point yet, it has become so bad that some newspapers have stopped reporting subscription figures altogether.
Likewise, print advertising revenue has declined at a similar rate, whereas digital revenue from print publishers' online sites has increased year on year and continues to increase.
According to Ofcom's 2020/21 research, today's UK population get their news from the following sources (most from more than one):
Television – 79%
Internet – 73%
Social media – 43%
Other websites/apps – 49%
Radio – 46%
Print – 32%
With the figures for radio, print and the Internet all declining.
Magazines have suffered, with figures from the UK showing a 6% drop in circulation in 2020 (ABC). New magazine launches dropped by almost 60% in 2020. The size of those launches has also been reduced by 22%, with new magazines launching into tight niches and in small numbers – on average, only 8,400 copies.
And magazine deaths outnumbered launches by almost 4:1, with the number of magazine brands shrinking by 16% year on year. (Wessenden Marketing).
Most new magazines are launched by small publishers dedicated to a particular passion, whereas most previously came from major publishers.
On a more positive note, the effects of the lockdown have boosted particular genres, such as home and food; with Garden Answers growing by 35%, BBC Gardeners' World by 31%, Landscape by 28%, food magazine Olive by a quarter, and Garden News by 18%. (ABC)
Similarly, because of the need for homeschooling during the lockdown, young education titles also grew – 37% in the case of The Week Junior. (ABC)
These decreasing circulation figures reflect the continuing drive for many magazines to go online – resulting in digital growth soaring and print sales declining.
Recently, the trend for reading a favourite magazine online has accelerated. Again helped in the past year or so by the effects of the pandemic.
Many readers will read both printed magazines and digital magazines as the following figures of consumption of magazine brands by platform shows:
63% on their phone
38% printed magazine
26% on a desktop computer
12% on a tablet
It seems readers still like a printed copy for some titles, but readers are happy to go online for most.
Another driver for reading magazines online is the increasing number of digital magazine subscription services. One of the biggest is Readly – for a single subscription, you can get access to thousands of magazines, and it's proving very popular. They recently published a reading trends report that showed:
British readers have read 21 million issues.
10% of all titles read by UK users are foreign titles.
22% of all titles read by UK users are back issues.
6 pm on Thursdays is the most popular time to read magazines.
The most-read category among Brits is Celebrity & Entertainment.
Yes, but what about marketing?
Printed direct mail is often seen as a direct competitor to email for marketing, so how does it compare?
The most significant factor is undoubtedly cost. Direct mail is many times more expensive than an email campaign – the printing and distribution costs of direct mail are substantial compared to the virtually free cost of email.
Cost is not the only issue with direct mail, though. It is much easier to track and analyse responses to an email campaign where people click on trackable links. In comparison, direct mail campaigns can be responded to in several ways – with many of them not trackable and therefore not easily attributable to the campaign.
Personalisation is easier and more sophisticated in an email campaign than the limited personalisation possible in a direct mail campaign.
Cost and traceability are two essential factors in a campaign, but the most important is a return on investment – concrete results, meaningful effectiveness.
The volume of direct mail has decreased in recent years, which means the direct mail sent has more impact and is more effective.
Research from the DMA shows a 9% average response rate for direct mail campaigns. In a recent JICMAIL report, "in Q2 of 2019... consumers engaged with 91% of all Direct Mail. By Q2 2020, this figure had soared to 96%." So contrary to some reports, it does seem direct mail is increasing in efficacy
Further, the DMA reports as a direct result of receiving mail:
92% have been driven to online or digital activity
87% have been influenced to make online purchases
86% have connected with a business online
54% have engaged in social media
43% have downloaded something
The problem with email.
Email marketing has problems of its own, and in the recent past, these have increased.
Firstly, its effectiveness is on the decline, it's simply being overused, and recipients are rightly getting fed up with it. The average office worker receives more than 120 emails daily.
In 2020, more than 300 billion emails were sent and received every day, which was expected to grow to 320 billion in 2021 (Statista). (Forbes).
A recent survey by Wakefield Research found that:
A vast majority of office workers (89%) said the daily task of sorting through an inbox of unopened emails or navigating incoming Slack or Teams messages is one of the worst parts of remote working.
This is a severe problem, as worryingly:
More than one-third of office workers (38%) said this 'email fatigue is likely to push them to quit their jobs. For younger office workers 40 or under, this rises to 51%.
Suppose you are using email for your marketing. In that case, you face two issues – standing out amongst the volume of emails competing for a recipient's time and the high probability that your email will at the very least be ignored, or at worst, resented.
Secondly, the introduction of GDPR (currently UK GDPR) has made sending an email campaign to all and sundry illegal. Outside of the use of 'legitimate interest', businesses must now ensure that recipients have opted in to receive emails. Furthermore, they must explicitly get their permission for every piece of data they store and only use it for the purpose the recipient has agreed to.
Lastly, there is a growing trend towards privacy, with companies like Apple introducing privacy protection into their software.
iPhone and iMac users can hide their location from web browsers and create 'burner' addresses – temporary email addresses they can use to sign up for things they can later delete.
Apple has also introduced the ability to anonymise the tracking of email. Any email to an Apple user who chooses this service will be received and opened by Apple servers first before being relayed to an end-user – making location tracking and open tracking pointless.
The advantages of Direct Mail
Email marketing is still a relatively attractive marketing option for many despite these increasing difficulties. However, there are still several powerful advantages to Direct Mail.
The average lifespan of a brand email is ten seconds (Statista), whereas, with direct mail, it is around nine days for consumer direct mail and approximately six days for business direct mail (JICMAIL 2021).
Research tells us that 87% of recipients consider mail believable, compared to 48% for email. Nearly every piece of mail (95%) is read, open or filed, and almost a quarter (23%) is shared with people in the recipient's household. As a result, mail is generally welcomed into the home.
And Direct Mail makes 70% of recipients feel valued - more than double the proportion for email. (WARC/ Royal Mail Marketreach)
A recent study by Neuro-Insight for Royal Mail Marketreach uncovered what happens in consumers' brains when they receive and interact with physical and digital media. Their insights revealed that physical mail is:
49% more memorable than email
35% more memorable than social media advertising
33% more engaging than email
35% more engaging than social media advertising
Further research from Royal Mail Marketreach and Neuro-Insight has shown that mail is interacted with and is nearly twice as likely to receive the recipient's full attention as an email.
One final point is that business mail is more effective than general direct mail, having greater reach, engagement and lifespan. (Jicmail)
The difference between email and direct mail
In a survey for the Royal Mail, customers chose the words associated with each type of communication. Here they are listed in order of popularity:
Email
Quick
Spontaneous
Interesting
Informative
Smart
Informal
Direct mail
Formal
Official
Considered
Believable
Important
Reliable
Informative
Personal
What's interesting about these lists is the clear difference between them. Mail is seen as more trustworthy and important than email, and, interestingly, it is also seen as more personal.
In the same survey, 56% of people said that mail makes me feel valued, but only 40% said the same about email.
Research by Kantar Millward Brown and Bangor University examined the emotional response to on-screen and printed adverts, they found:
Tangible materials leave a deeper footprint in the brain.
Physical materials produced more brain responses connected with internal feelings, suggesting greater "internalisation" of the ads.
Physical material involves more emotional processing, which is important for memory and brand associations.
What's clear is that the two mediums have different strengths and trigger different emotional responses, implying that each should be used depending on your campaign and its goals.
When to use email and when to use Direct Mail
In the Royal Mail survey, customers were asked through which channel they would prefer to receive certain types of communication.
By email, they preferred to receive:
Information about companies not used before
Other products and services
Confirmation or follow-up messages
News and updates
By direct mail, they preferred to receive:
Brochures & Catalogues
Welcome Packs
Bills or Statements
Loyalty Rewards
Two types of communications were almost evenly split: Reminders and Issues or complaints.
This research is an excellent guide for which channel to use for different types of marketing communication.
The return of the brand magazine
Businesses are starting to recognise that to make an impact with their marketing, they need to do something different, and in today's digitally overloaded world, that 'different' can be print.
In particular, new companies looking to make an impact have started publishing print magazines with impressive results.
Some B2C businesses have been so successful with their free brand magazines that they have launched them with a cover price – Superdrug's Dare and the ASOS magazine have both been placed on sale after a period of being distributed for free.
To showcase good content in a unique, valued format, the brand magazine is proving to be an effective way to grab the target market's attention.
An obituary?
So is print dead? No. It still has its uses – and still a powerful medium for marketers. While newspapers and magazines are desperately struggling to stay breathing, direct mail and content print publishing are alive and well and are experiencing a resurgence.