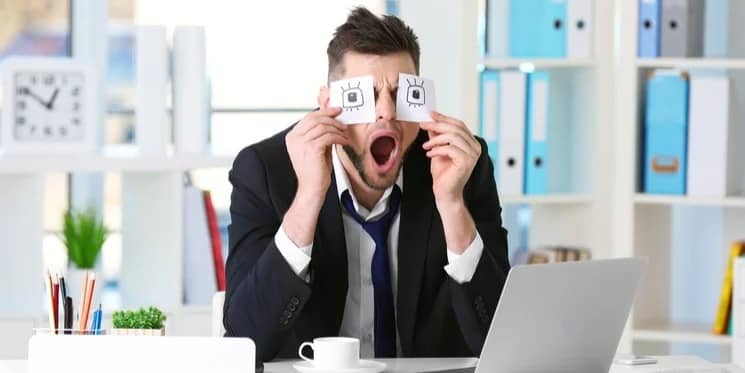 Creative. Challenging. Dynamic. Relentless. Exhausting...
Just some of the words you might use to describe your B2B marketing role.
And, as you know, a successful marketer is one who is willing to learn and adapt to satisfy the needs of both prospects and customers.
In 2017, we're slap bang in the middle of a period of disruption. Skill sets that might've propelled you to the top ten years ago could be now obsolete. Equally, if you don't invest and expand your knowledge, business will begin to suffer in the race against political, economical and digital advancements.
Below we outline the top three B2B marketing challenges in 2017 and how you can put a plan into action to prioritise, tackle and wipe these off the to-do list, leaving you free to sleep easy again.
GDPR
With the deadline of May 25th, 2018 approaching, marketers are getting hot under the collar. Procrastination isn't an option if you're going survive the transition and avoid crippling consequences.
According to the CIM, only 6% of marketers feel they fully understand what the General Data Protection Regulation means for their business, with 50% saying they don't understand it at all.
There are three prominent areas that marketing needs to focus on.
Consent -

which must be 'freely given, specific, informed, and unambiguous', and articulated by a 'clear affirmative action' (pre-ticked boxes will no longer suffice).

The 'Right to be forgotten'

, giving participants more control over how their data is collected and used.

Better housekeeping by marketers with the intention of putting a stop to frivolous and unnecessary data collection.
You may consider mapping out the next six months to ensure you are ready. Draw up a calendar which states which area you will iron out and when, and make yourself or other team members accountable for completion of each stage. This previous GDPR blog includes a checklist for compliance, which you may find helpful.
Post-Brexit UK
More than half (55 percent) of the 255 marketers surveyed online listed Brexit as their primary concern for this year (2017).
Shockwaves of Brexit and Trump are still rippling around the globe, and have left marketers questioning whether they know their audiences. According to Netimperative, following Brexit and the Trump presidency, nearly half (43%) of digital marketers do not believe they were tailoring their campaigns correctly.
Brands must start to really listen to their audiences and prospects. Methods such as social listening, persona workshops and interviewing have proved very successful in the past in really gaining valuable insight into your customers' needs and decision making.
Yes, Brexit has caused political and economic unrest across the UK. With uncertainty being the biggest worry of them all it's not surprising that 96% of members the Creative Industries Federation wished to remain in the EU. But do not be at the mercy of your remorse and uncertainty. Focus your efforts on building campaigns that empower your customers by reassuring them that everything is going to be as good as, if not better, post-Brexit. You can utilise this assured confidence to nurture brand loyalty and develop superiority over unsure competitors.
March 2019 will soon creep up on us. We suggest using your CRM to identify what's already working well and concentrate on building this service. Whether that's blogging, e-marketing or social media.
In the words of Theresa May, "Brexit means Brexit". Try your best to view the glass as half full - how can you leverage this as an opportunity for future growth of your organisation? Do plans need to be reviewed?
Look at your five-year, or even ten-year plan and plant a positive spin using this as an opportunity rather than a hinderance.
New technologies
Technological growth is set to grow exponentially in the run up to 2020. Features such as automation, machine learning and the internet of things (IoT) are taking precedence over traditional marketing tools. And customers are beginning to expect them.
More specifically, augmented reality, chatbots, artificial intelligence and voice recognition are putting pressures on marketers to up the pace and implement new technologies that will enhance and improve customer experience.
There will be changes in the way SEO works, thanks to voice searches and voice recognition technologies. But it's not just understanding new technologies which is a challenge, it's getting a handle on how they can improve your customer's experience.
For example, by implementing automation software, such as HubSpot, you can automate your email campaigns and create sophisticated, targeted workflows to move your prospects further down the sales funnel and generate more qualified leads.
Embrace new technologies, as they're actually predicted to create more jobs, and free up existing roles, creating more time to focus on core competencies and customer experience.
As with Brexit and GDPR, if you face these concerns head on, you'll no doubt find opportunities to improve customer experience, efficiency, and the growth of your organisation. Don't shy away. Procrastination serves no purpose in these cases and will only put you in more sleep debt. And coffee is just a short term solution.