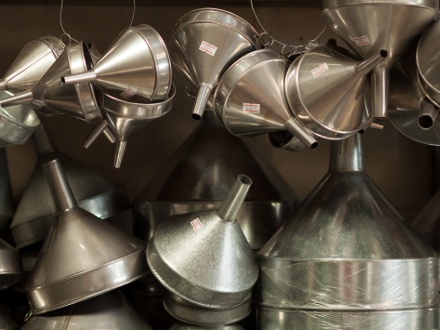 Anyone familiar with sales or marketing will recognise the traditional model of the sales funnel. It can also be represented by the acronym AIDA: Awareness, Interest, Desire, Action.
As a model, it was developed in principle in 1898 by American advertising advocate E. St. Elmo Lewis - in the days before the Internet, before television and even before radio. So it's hardly surprising that this century-old model may need re-thinking.
In professional services marketing, the funnel was traditionally "fed" with leads from networking and referrals from clients. While business is still generated using this approach, the funnel has changed radically - with some even saying that the sales funnel is dead.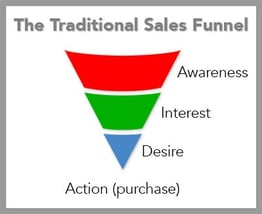 What we do know is that the way a potential client looks for a product or service has changed.
In the old model, a prospect would respond to an advert, a piece of direct mail, a sales call, or maybe talk to a sales person at a networking event, business exhibition or conference. The sales person would then pretty much handle the whole process, guiding the customer down through the funnel culminating, hopefully, in a sale. Contacts became leads; leads became prospects; and prospects became clients.
But now, potential buyers are doing something quite different. They are researching their issues, and possible solutions online: with 85 per cent of B2B buyers saying online content has a moderate to major effect on purchasing conditions.[1] They are working out what they need for themselves based on online guides, educational material and helpful blog posts. They are turning to social media and peer networks for recommendations and feedback, with a staggering 84 per cent of senior executives saying they use social media to make purchasing decisions[2]. They are investigating potential suppliers' websites and making a shortlist before even talking to you. On average, B2B buyers are typically 57 per cent of the way to a buying decision before actively engaging with sales[3]. When they do pick up the phone, they know what they need and want to talk business.
TOFU, MOFU and BOFU - a modern take on the funnel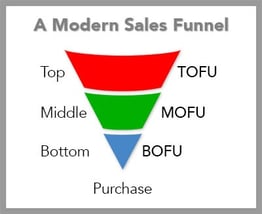 A more modern way of looking at the sales funnel reflects this situation and involves splitting the funnel into three parts: Top of Funnel (TOFU), Middle of Funnel (MOFU) and Bottom of Funnel (BOFU).
TOFU - providing educational content, answering questions, responding to problems.
MOFU - focusing on defining your services, allowing prospects to compare solutions.
BOFU - offering opportunities to sample/trial your solution, working towards a sale.
This has several implications for both the funnel and the sales team. The sales person is effectively side-stepped in the middle stages of the funnel - so this now extends the domain of the marketer - with the availability, usefulness and effectiveness of a company's online content being the deciding factor in whether the company attracts new leads or not.
However, this doesn't decrease the value of the sales team - it just means they have a different focus and that they need to work more closely with marketing.
Further challenges to the model arise from the increasing trend for collaborative buying decisions, with the average deal having over eight decision makers - a 43 per cent increase from three years ago[4]. This implies that the buying decision is complicated with no one person being led through the funnel.
Going beyond the sale with the hourglass model
A few years back, Jeremiah Owyang presented a Marketing Hourglass that mirrors the funnel around the purchase, with the bottom half including support, loyalty and advocacy. These additional steps make sense - if you support your clients well, they are likely to become loyal, repurchase, and eventually act as advocates for your business - providing referrals and effectively selling on your behalf. Business networks, such as LinkedIn and other forms of social media, offer a platform for these "digital" referrals.
Supporting your clients is also important for prospects in the research stage, who are likely to pick up on negative feedback and complaints by unhappy clients on social media and in peer-to-peer networks.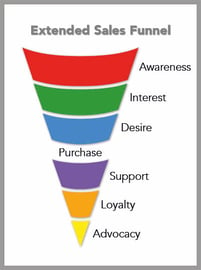 But perhaps an hourglass is the wrong shape as it implies a large number of advocates from a small number of sales?
So maybe… it's better to stick with the funnel concept and simply extend it.
Alternatively, if you believe in the death of the sales funnel, then you might go for a sort of a squiggly mess of circles and lines as in Lenati's infographic.
10 actions addressing the common issue
Whichever model you want to run with, they are all trying to represent the way that the buyer's journey has radically changed.
This change means your approach to professional services marketing has to adapt. Here are ten key marketing actions:
Create informative, educative content – blog posts, videos, podcasts – so you get found in searches, by people looking for what you do.
Ensure your website is comprehensive, up to date and mobile friendly.
Offer downloadable eBooks, white papers and other useful content.
Create landing pages with calls-to-action to convert website visitors into leads.
Become active in business social media – engaging and helping (not selling).
Create case studies, spec sheets and presentations for clients close to buying.
Ensure personnel with responsibility for marketing and sales work together.
Track the client's journey using inbound software systems.
Use this information to undertake lead nurturing, scoring and segmentation.
Support existing customers, turning them into advocates (that's where referrals come back into play).
All the revisions of Mr Lewis' long-standing model acknowledge that the online world has changed the sales funnel forever, and professional services companies must recognise that and amend their marketing strategy accordingly. Perhaps by embracing an inbound marketing model.
[1] CMO Council, 2013
[2] IDC, 2014
[3] CEB/Google, 2012
[4] IDC