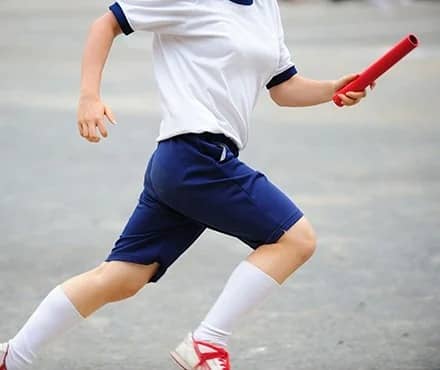 From sport to business, fashion to IT: teamwork is essential to a vast number of industries. Each member of a team has their own specific part to play – if they don't fulfil their role, everyone else will be affected too.
Take an athletics relay team, for example – the first three runners could give 110 per cent and clock up a good time, but if the final runner decides to walk and drops the baton then all four people will be at the bottom of the race leaderboard.
And when it comes to B2B content marketing, teamwork is just as crucial. Behind every successful campaign are the people that make it happen. Each of these individuals is integral to ensuring that a piece of content solves their target audience's problems and moves them a step along the buyer's journey.
So think about your own content marketing team. Whether your company employs specific people for each job or shares the main responsibilities among employees in other positions, building a successful team requires you to cover certain bases.
Let's consider five key roles that make up a successful B2B content marketing team. This is not an exhaustive list, but it will certainly set you on the right track.
1. Strategist
Your strategist is your team leader, keeping all the plates spinning and mapping out how your content marketing campaigns will play out from start to finish.
Writing on HubSpot, Rick Whittington says: "The strategist thinks with both the right and left brain. They connect the dots between the knowing the audience/their needs and your inbound marketing activities."
A good strategist will work with the other members of your content marketing team to ensure not only that every piece of content answers your audience's questions and is timely and accessible to that audience, but also that it garners leads and, ultimately, delivers a tangible return on investment (ROI).
2. Writer
It's all very well coming up with brilliant ideas for content – but without a writer to turn them into something concrete, they're unlikely to succeed.
Your writer will need to be able to turn their pen to a variety of content formats, from eBooks to white papers, to website pages – and, of course, blog posts. And while it's important that their grammatical skills and creative flair are top notch, it's more essential that they understand the audience for whom they are writing – and what a particular piece of content is seeking to achieve.
Some companies choose to outsource this role, while others share it between current employees – for example, four people may produce one blog post each month.
3. Content Editor
It's always good to review content with a fresh pair of eyes – and a content editor can be the difference between publishing an average piece of content and an excellent piece.
As we discussed above, it may not always be possible to fulfil the writer role on a B2B content marketing team directly. In this case, a content editor is likely to be even more valuable.
For example, your business may have appointed two current employees to write blog posts. These individuals may have a deep understanding of your processes and industry as a whole, as well an in-depth knowledge of your audience – however, their writing could be slightly clunky. A content editor can tidy up what they've created, smoothing out the rough edges.
4. Designer
Your designer will bring your content to life, whether by creating fascinating infographics, drawing images for blog posts or designing and styling eBooks. When it comes to the internet, the importance of the visual cannot be overemphasised – images and other media help to grab your audience's attention.
Writing on Copyblogger, Pamela Wilson, says: "So. Much. Content.
"Not. Enough. Time.
"Fortunately, images are processed in a different part of our brains than words. Using them gives the over-stimulated, word-crunching parts of our brains a break. And images will help your carefully crafted words attract and hold attention and have more impact."
Your designer should liaise closely with the writer and content editor to ensure that your business' content helps you to form valuable connections with the people you really want to reach.
5. Analyst
Analysis and content marketing go together like day and night - you simply can't have one without the other. After all, every B2B content marketing campaign has an overall aim (just ask your strategist!).
The job of an analyst is to monitor traffic to your website and blog posts, keep an eye on how many people download your content offers, and alert other members of the team when certain pages or pieces of content aren't doing so well.
The data they gather will close the circle of each content marketing campaign, illuminating strengths and weaknesses that the whole team can develop and build upon next time.
Creating a successful B2B content marketing team means fulfilling certain key roles, to ensure that your content gets in front of the people whose problems your product or service can solve. A strategist will map out the journey and steer the team in the right direction, the writer, content editor and designer will create flawless and engaging content in line with these aims, and the analyst will report on the results.
Whether you assimilate these five roles into the jobs of current employees, hire specific people, or appoint more than one person to each position, they are a great starting point for building your content marketing team.