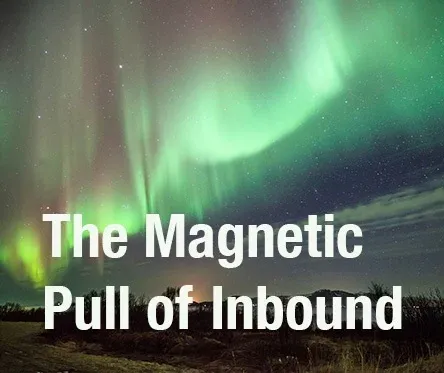 HubSpot has just released its seventh annual State of Inbound report. So what does it tell us about inbound marketing today?
The comprehensive document, which is just over 70 pages long, represents the experiences of almost 4,000 marketing and sales professionals across 150 countries. The majority of these respondents work for B2B SMBs.
The good news is that the report paints a very positive picture - both for now and the future. Inbound marketing continues to grow as a movement - with positive results across the board.
Whether you're a seasoned inbound marketer, just getting to grips with the methodology, or have never tried it at all, there are a number of illuminating insights.
Here are five things we can learn from HubSpot's State of Inbound 2015 report:
1. Inbound rules the roost
The report found that three out of four marketers prioritise an inbound approach to marketing - that is, creating valuable content to attract their target audience, rather than approach them directly. However, large organisations with more money also continue to rely equally on traditional outbound methods, such as paid advertising.
HubSpot states: "Inbound is king, but outbound still matters to big companies."
Nevertheless, the point is that more and more businesses are recognising the changing face of the customer experience. The buyer is in control in this new era, and they don't want to be sold to. Instead, individuals desire the opportunity to educate themselves through online research and find the best solution for their particular problem.
2. Proving ROI is hard - but it's worth it
"Demonstrating ROI is the #1 challenge marketers face," HubSpot states.
This situation presents a real conundrum, as successfully bidding for a larger marketing budget is usually dependent on proven inbound marketing ROI.
Perhaps due the difficulty of the task, the report found that many organisations aren't tracking ROI at all. But, for those that do, inbound marketing was found to be very effective. In fact, companies are three times more likely to see higher ROI on inbound marketing campaigns than outbound ones.
The report concluded on this point: "The key here… is to track ROI in the first place to prove ROI and justify a budget increase. No ROI tracking, no demonstrable ROI. No ROI, no budget."
3. Inbound works for everyone
Whether your organisation is B2B, B2C or non-profit, inbound can help you to grow and reach more of the people you're seeking to connect with.
According to the report, inbound had a 75 per cent likelihood of being the marketing method of choice, compared to 25 per cent for outbound - across all three company types.
And it makes sense when you think about it. Inbound marketing is about creating content that addresses your target audience's pain points. That remains true whether they're a business looking for an IT solution, an individual seeking the perfect widget or a group seeking funding for a community project.
4. Content creation doesn't have to be in-house
Content is at the heart of any inbound strategy - and some companies may feel overwhelmed at the prospect of creating it. However, many are finding a solution by outsourcing.
While the majority (41 per cent) of HubSpot's respondents still rely on staff to write blog posts, eBooks and the like, more organisations are turning to freelancers and agency partners. 13 per cent of companies use freelancers (up from 12 per cent in 2014) while 10 per cent use agency partners (up from 8 per cent in 2014).
Outsourcing some or all of your content creation can be an excellent decision, as long as you ensure that your writers understand your business and what you are trying to achieve.
5. Marketing automation software is the cherry on the cake
The report states: "The main tool in top marketers' arsenals is a platform for automating their team's marketing efforts. While our respondents indicated using an array of specific products, the larger trend was telling: the guys at the top use marketing automation software in some form or another."
While it's possible to implement an inbound marketing strategy without using marketing automation, it's a lot harder. Again, it comes back to ROI: software helps businesses analyse the impact of their content and adjust their strategy accordingly.
In fact, 52 per cent of inbound marketers who use marketing automation enjoyed a higher marketing ROI in 2014, compared to 41 per cent who didn't use software.
Inbound marketing is a tried and tested method that continues to gain traction as buyers acquire more control. As HubSpot's State of Inbound 2015 report shows, more and more businesses are adopting an inbound approach.
However, to benefit meaningfully from inbound, it's important to track ROI effectively. It's also a good idea to invest in marketing automation. And, of course, we need to ensure that our content is of the highest quality in the first place.