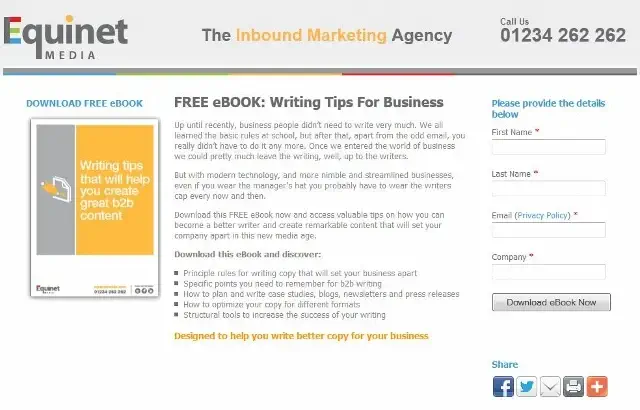 So, as a savvy new media marketer, you understand what landing pages are and the central role they play in your inbound marketing campaigns. You realise the importance of using tailored landing pages behind your latest email campaign or pay-per-click (PPC) ad or social media feeds, in order to best capture interested customers and collect information from them for future lead nurturing campaigns.
With MarketingSherpa research citing that landing pages are effective for 94% of B2B and B2C companies, just what does great landing page design look like, and what can't you afford to leave out?
Thought-leaders in the field commonly hold the following 8 key elements to be essential to the structure of a well-designed and optimised landing page:
1) A good headline – this is the first thing that people will see, so make it good! Your headline should include your primary keywords (the closer to the front the better). It should start with an action verb and be be clear, succinct, relevant and unambiguous to your customer; something that will compel this customer to engage with your business.
2) Relevant and useful content – ensure that visitors reaching your landing page find content that is directly related to the call to action (link/advert/offer) they clicked on initially. A short, bulleted list of benefits alongside a couple of explanatory paragraphs of text can be all that is needed, rather than reams of information and detail. Remember that you should still use keywords, both here and in the headline, to optimise your page for search engines.
3) Simple and single call-to-action – a well-crafted landing page will include one simple and compelling call-to-action; be clear to customers about what you would like them to do by making your call-to-action specific, for example : "Buy now", "Click to download", "Sign up today". Again, the call-to-action should be something your potential customer would expect to see, in other words something that matches the previously trailed offer.
Look at an example of an Equinet Media eBook landing page where we have used a simple headline, a concise list of bullets to describe the offer and a clear call-to-action, so that visitors arriving at this landing page understand exactly where they are and what they can do.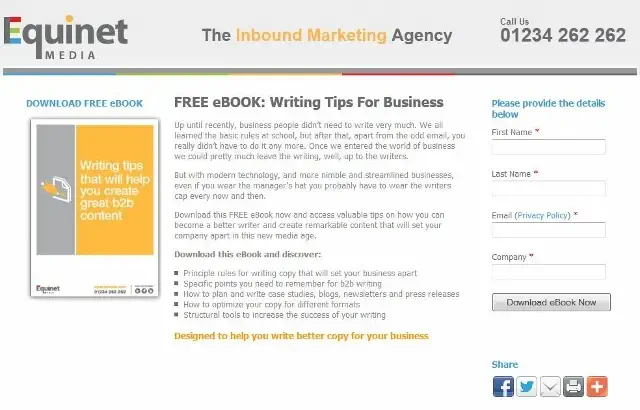 4) Functional, concise conversion form – arguably, the most important element on your landing page is a simple form that customers complete, in return for the offer that you make on your landing page. Consider carefully what level of information you are seeking at this point from your visitors. It may be tempting to know all there is to know about your visitor, but a form that is too detailed and intrusive at this early stage in your relationship may be off-putting for customers and dissuade them from acting.
Keep your form concise, relevant and simple, asking customers for some basic information (e.g. name, company name, email address) which you will need for lead-nurturing campaigns, then ask for more details further down the line as you build more recognition and trust. Remember, to engender trust in your customers, a link to your company's privacy policy here would be useful.
5) Visuals – there are mixed schools of thought on the use of visuals on landing pages; some experts suggesting they serve purely to distract from the rest of the page content, whilst others contend the right images can enhance your page, and/or even compel your customer to act. There is certainly a strong case for making any visuals relevant and appropriate to your offer and your audience.
The use of a generic library image or a poor quality photo, for example, may simply sidetrack your visitor or else be completely incompatible with the product, service or content you are promoting. However, it would be sensible and useful to include an image of what you are promoting to your customer, be it a specific product, a downloadable report, or a relevant still from a web video. Again, by way of example, on the Equinet Media eBook landing pages we usually include a visual of the eBook's front cover, to give potential downloaders a clear indication of what they're going to receive when they complete your form.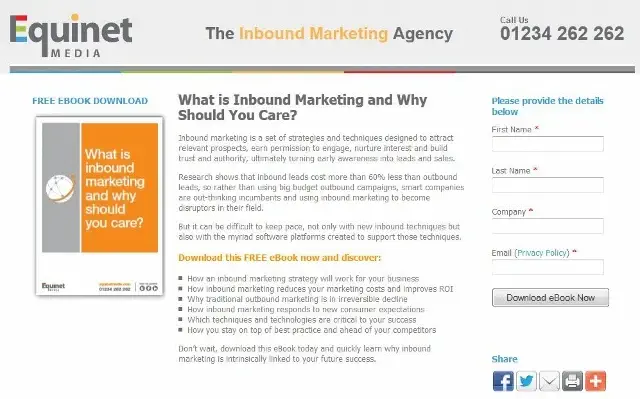 6) Trust indicators – when appropriate, customers are likely to be reassured, especially when being asked to share their personal details with a new business, to see evidence of your company's association with trade bodies, recognised quality marks and industry regulators.
There might be an industry-specific standard that customers would expect to see from your firm (e.g. ABTA if you are in the travel business), or else evidence that your firm offers protection and security to its customers (e.g. online payment security via Paypal, sagepay or Verified by Visa). On top of professional and commercial recognition for your business, customers may also like to see quotes and endorsements from satisfied customers, trade partners, etc.
7) Stripped out navigation – there is a strong argument for removing or hiding main site navigation on your landing page. This will ensure that visitor attention is not diverted to other sections of your website, and more importantly, that customers are more likely to stay on your well-designed page to convert.
8) Opportunities for social sharing – don't miss the opportunity for your offer to reach a wider audience, by remembering to include buttons for customers to share your with their networks. These social sharing icons should be positioned on the landing page, as shown in our previous landing page examples above, and on the "thank you" page, that customers completing the data capture form are directed to (note: these links need to point any recipients back to original offer landing page).
There are no fail-safe recipes for landing page design but, in our view, including these 8 key ingredients will give you highly persuasive landing pages which will see visitors becoming real leads for your business.
What are the key ingredients of great landing page design in your view? Have we missed anything out?