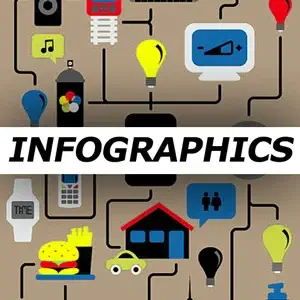 In a world where the consumption of information and how it reaches us is growing exponentially, yet the time available to consume seems ever fleeting, b2b infographics are fast-becoming an exciting new currency for conveying meaning to your audience in one palatable bite.
But what exactly are b2b infographics and why should you consider using them in your content? In this post, you'll find the answer to both these questions, alongside examples of the types of infographics you might wish to consider, and how to go about creating one.
What are infographics?
As the name suggests, infographics are graphical representations of information or data, also known as "data visualisations". They are used to portray what might otherwise be quite complex pieces of information, such as survey results, data snapshots, or knowledge, in a way that is simpler to understand and visually attractive. Their aim is to present information through design in a succinct, precise, attractive and easily comprehensible manner – think of signs, maps, and graphs/charts as infographics in their simplest form. For a wealth of examples of what infographics look like visit websites, such as Visual.ly, and blogs such as informationisbeautiful.net, coolinfographics.com, to see an astounding array of infographics past and present, which arguably constitute an art form in their own right.
So, why are infographics proving so popular now…
and, what are the benefits to you of using them in your content marketing?
They are time-efficient: as suggested previously, with time so precious for everyone these days, information that can be conveyed swiftly to an audience is much appreciated

They are visually appealing: people like to have written text broken up by images and graphics – infographics do this job in one go, creating easily comprehensible, fun and useful information for the viewer

They are multi-purpose and adaptable: arguably, any topic of research/area of knowledge can be made into an infographic, offering an extremely versatile vehicle for marketers to utilise – types of infographics are numerous: for instance, "how to" or "how not to" infographics; the explanatory infographic (e.g. "the guide to" or "a history of…"); fun facts infographics (e.g. "creating the perfect cocktail", "what an Olympian has for breakfast", etc); and the infographics that fall into the "information is beautiful" category, where the presentation of a data story is an art form

They are highly shareable: well-designed and eye-catching infographics are often shared across social media sites (such as Pinterest, Facebook, etc.), circulated amongst networks, and enjoy link-backs, via blogs, online articles etc. Of course, this "shareability" is also good from an SEO perspective.

They are compelling and memorable: with visual images often easier to commit to memory than text, the use of colour, shape and illustration makes infographics simple to recall. Similarly, audiences may find the visual story in an infographic a more persuasive read, with its clearly signposted facts and evidenced conclusions.
How do you go about creating your own infographic?
So, you're clear about what they are and why you might consider using infographics in your online content to present your research and/or your expertise. Now, how might you be able to develop an infographic of your own? One great infographic on "infographics" we've found, designed by Infographiclabs, breaks down the process of designing your own into 7 steps, as follows:
1) Think of an idea – What type of information do you own that is worth sharing with others? What in-house expertise or knowledge do you have that could be useful to your audience?
2) Create a skeleton and flowchart – as a first draft, plot your information or idea in essence, so that you have a starting point for the rest of the design process
3) Colour scheme it – choose colours that are "eye-friendly" and harmonious with your information
4) Choose eye-catching graphics – be true to the "information is beautiful" premise; make your data visually appealing to your audience, so that its message is clear and its story is obvious.
5) Research – research your topic thoroughly, and then support your knowledge/information by citing your own data, or credible research from others (and ensure you credit your sources)
6) Provide facts and conclusions – make good use of the information gathered from your research; illustrate any statistics you use, and offer simple, yet informed conclusions based on your research
7) Edit, edit, edit – develop an easily-understandable narrative to accompany your chosen visuals, and then – through rigorous editing, ensure your infographic does its job in a simple, attractive, and meaningful way
So with these simple steps in mind, start getting creative! If you don't have your own design people to help you, there are a number of FREE tools out there for creating your own infographics, from sites such as Easel.ly and infogr.am, which allow you to start with a blank canvas or else adapt one of the providers existing visual themes to display your own information.
Image by:methodshop.com
Have you just started using infographics in your business? What hints, tips or useful tools can you share about your experience?