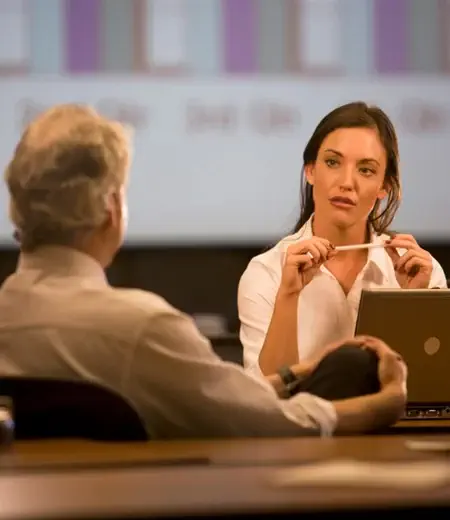 We've written on several occasions about the importance of C-level buy-in for your B2B content marketing activity, and for good reason. Never forget the statistic we cited in an earlier
post
- organisations without C-level buy-in are three times more likely to fail at content marketing!
But, as we also explored in our last post, many elements of content marketing are actually counter-intuitive to your C-level colleagues' instincts, so securing their buy-in is far from easy.
One element of the content marketing toolkit that tends to attract their refusal more than most others, we have found, is blogging. The B2B blog's perceived combination of labour-intensive production, non product-focused content and a potentiality for reputational riskiness sets the C-suite's nerves on edge and triggers the objection reflex.
So how are you going to turn it around and convince them that a blog adds significant value to the marketing mix? Cue a very quick course in C-level blog objection-handling!
Old-school and more
There isn't the space here to explore every single blog objection, but what we found, when we researched the topic, is that C-level objections to blogging tend to be driven by three broad areas of concern: "old school" PR/reputational/legal considerations, ROI considerations and workload considerations.
Amongst the "old school" considerations, we discovered that C-level executives often say that blog content risks being off-brand or off-message, and that negative responses to blog posts (commenter backlash) could become unseemly and even invite lawsuits.
How to respond: On the first point, there's a solution that's so practical that many companies have been using it in some form for years: create a style guide for your written content. One set of dos, dont's and hows, for everyone who writes content in the company to consult.
Your response to the second point should argue that whenever you post anything on the web, you open yourself up to negative comment somewhere – but, as Hubspot's Paul Rios comments, the reality is that blog comments are both less frequent and less highly regarded than they were even just a few years ago. There are more effective environments (such as social media platforms) for potential mudslingers to seek out an extended spat if they wish to.
Lastly, online channels and social media offer opportunities to humanise many aspects of business communications (as we explored in a recent post), using negative response to a blog post as an opportunity to address an issue in an open, helpful, non-corporate way, which could conceivably turn detractors into converts and return visits. Exactly what the website needs!
ROI objections
"Blogging isn't effective." Behold the judgement of the C-level, summed up in one sentence (verbatim, from the mouth of a CEO of my acquaintance).
How to respond: Frankly, head on! The fact is business blogging has been shown to be extremely effective. Here are just a few killer blogging stats:
The average company that blogs generates 55% more website visitors, 97% more inbound links, and 434% more indexed pages
The Nielsen Company shows that US internet users spend

3X more time

on blogs and social networks than in email
Blogging is a key element in inbound marketing activities, which have been shown to

cost 62% less per lead

than outbound marketing
And, in Hubspot's very latest analysis of the

State of Inbound Marketing 2013

, almost

40% of European marketers

reported acquiring customer leads directly from their company blog
Many more blog-supporting factoids are available to help sway C-suite opinion if needed – so make use of them.
But it isn't all just about ROI and financial returns, as crucial as they may be. You also need to draw C-level attention to some of the non-financial benefits of blogging.
We previously gave you 6 reasons why a blog makes good business sense (from shaping the conversation in your industry to improving search rankings), and further evidence - sure to push the Management's buttons is available from Mark Schaefer.
Workload considerations
In a nutshell: "Blogs take time to write, the people who write them are actually paid to do something else, and – dammit – I'm too busy to spend my working life signing off blog posts!"
How to respond: Blog writing and blog management takes time and commitment - you're never going to get away from it. But, as Rios once again puts it, "the barrier to entry is very low" - in other words, it can be relatively easy (and incredibly valuable) to turn non-marketing colleagues - who have good levels of knowledge, experience and competent communication skills - into bloggers, who will produce useful, informative and relevant content for your customers.
Federating the production of blog content across the whole business in this way makes for more prolific, diverse, quality online content but with a far lower average administrative overhead. Win/win!
And if the CEO found time to write him or herself on occasion, offer opinion pieces, respond directly to customer questions or concerns, comment on key industry issues. Now there's a thought...