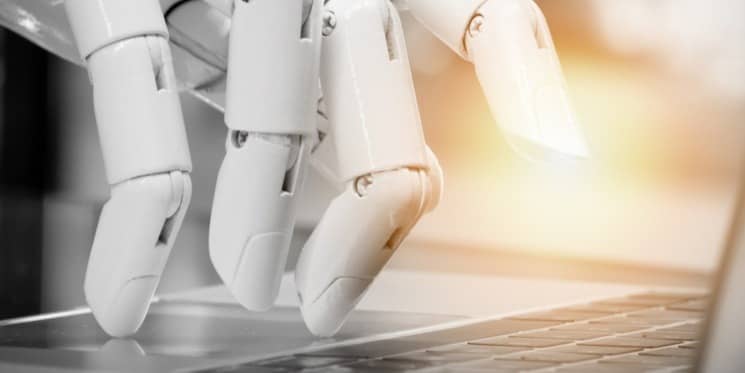 September has arrived. The kids are back at school, this summer's heatwave is a distant memory, and it's starting to feel very autumnal. Dare I say it, but it will be Christmas before we know it. So it's not too early to start thinking about the new year, right?
With the world changing a mile a minute, it certainly pays to stay ahead of the curve. Here are some thoughts about the digital marketing trends you need to keep an eye out for in 2019.
1. AI-powered chatbots
Artificial intelligence (AI) is no doubt one of the greatest technologies of our time. And it's transforming the way people interact with brands. While early versions of chatbots used pre-programmed responses to questions, AI is now enabling businesses to use chatbots in exciting new ways. They can understand complex requests, personalise responses and improve interactions over time.
Gartner predicts that by 2020, 85% of customer interactions will be dealt with by chatbots. For consumers, it means a 24/7 communication channel and a quicker and smoother purchasing journey. But are chatbots applicable in the B2B world?
If you consider the volume of queries and questions that arise throughout the B2B buying process, chatbots can undoubtedly play a role in providing quick, instant responses, as well as an opportunity to build deeper relationships with buyers. Think of chatbots as your 24-hour support team.
The technology may still be in its infancy, but chatbots are already being branded the future of marketing. As HubSpot says: "All any buyer wants is the most direct line between their problem and a solution. In the future, that line is a bot."
2. Voice search
1 in 5 Google searches now come from voice queries. And this is expected to grow to 50% by 2020. What's more, B2B buyers are unlikely to be put off talking to Alexa or Siri at their desks - a quarter of people feel comfortable using voice search in front of their coworkers.
These stats are impossible to ignore. To get ahead, B2B marketers need to be actively thinking about these new behaviours when developing their marketing strategies.
The good news is there are some simple ways you can optimise your blog posts for voice search. We wrote about this in-depth in a previous post, but here are a few pointers;
Don't be shy with your word count - Google prefers to source voice search answers from long-form content.
Make your content quote-ready - Think of your blog post as a series of scannable chunks that provide concise answers to various direct questions around a topic.
Keep page load time down - Research shows that voice search tends to come from fast-loading pages.
3. Live video
Broadcasting a live video may seem daunting. Or perhaps you think it's just for fitness bloggers and YouTube stars. But the desire for live content is growing in strength. If you haven't already jumped on the live video bandwagon, why not make 2019 the year you do?
Video is no longer a novelty, but a staple for B2B marketers. While this has opened up new opportunities for companies to engage with potential buyers, as its popularity grows and we see an abundance of video content, we need new and exciting ways to differentiate our videos. Enter: live video.
Live video has the potential to supercharge your video marketing efforts, connecting you with customers and prospects in a more instant and meaningful way. Live video oozes authenticity, and it's hugely compelling. There are also endless situations you can capture; from live streaming of events, to behind-the-scenes footage of new products or services, to interviews with customers and influencers.
The stats are pretty powerful too - people spend 3x longer watching Facebook Live videos than a video that is no longer live, and 82% of people would rather watch a live video from a brand than read a social post.
4. User-generated content
User-generated content (UGC) isn't a new concept, but it's only in recent years that marketers around the world have started to realise its potential as a digital marketing strategy.
UGC refers to any unpaid content created and shared by a brand's audience that is available to the general public, typically through social media. It can come in the form of blog posts, reviews, photos, GIFs, videos, audio recordings and more.
Using UGC offers opportunities to spread brand messaging in a more engaging way. Brand engagement rises by 28% when consumers are exposed to a mix of professional marketing content and UGC, according to a study by ComScore. It's no wonder really - it is brand advocacy in its most powerful form. Further research shows that UGC is trusted 50% more than traditional media.
For B2B companies, UGC means more powerful content in less time. With B2B buyers valuing personal connections and becoming more reliant on social media to research potential vendors and solutions, it presents a strong opportunity.
Adobe are one company leveraging UGC. Their Instagram account features an eclectic mix of interesting images - nearly all of which are UGC. At the time of writing, they had 776k followers. And Houzz, the online company connecting architects, designers, builders and the like, have a Stories and Advice channel which hosts an entire library of UGC. They have even created their own social network through this community where B2B customers can market to their buyers.
In an ever-changing marketplace, there's an increasing pressure for companies to stay ahead of the curve. B2B marketers need to keep up-to-date with the latest trends or risk getting left behind. As we enter the last chapter of the year, hopefully this post has given you some inspiration for developing your 2019 digital marketing strategy.