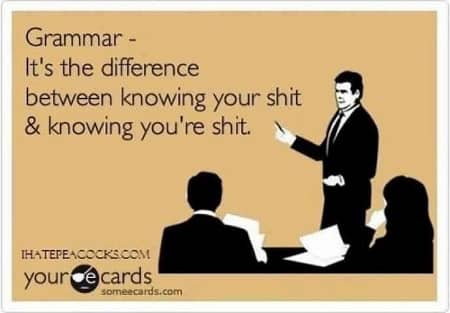 We've all seen it and we're all moved to berate it: poor business writing, grammar and spelling. At best, it is a distraction, at worst, mistakes in your online content can cost you sales.
What doe the spelling ability and grammar knowledge demonstrated in your B2B blog say about your business? Oops, spot the deliberate mistake? It should read: what does the spelling ability and grammar knowledge demonstrated in your B2B blog say about your business? You know, you can't trust your spell-checker when doing your online writing; for example, is it write, rite, or right that you need to write?
Homophones - words that sound the same, but are spelt differently and have different meanings - are just the tip of the iceberg that can sink your online writing enterprise. Spot the difference between these two genuine grammar mistakes:
"Would the congregation please note that the bowl at the back of the church labelled 'for the sick' is for monetary donations only." (Churchtown Parish Magazine). This press cutting, sent in by a listener to the Radio 4 News Quiz, is both an amusing distraction, and even an attractive piece of self-mockery from the Church.

Their loyal customers won't go elsewhere, of course, just because the warden can't write a grammatically sound notice. However, they may be ignoring some valuable feedback, freely given, from the unknown donor.



"Solicitor to Sue for Psychological, Sexual and Physical Abuse Claims, UK". Taken from an advert, and cited by

SEOManchesterblog

, this is a business disaster; it's like being shouted at, with all those capital letters. The only client who would click on this site would presumably be one looking to "sue a solicitor". Now, solicitors are in the words business, and this kind of terrible content writing says "go somewhere else, I'm an idiot".
Put Yourself in Your Reader's Place
This is the best advice to B2B bloggers everywhere. There your reader is, surfing along on your word images, intrigued by your ideas in their mind's eye, when suddenly – ouch - you've hit them with a lost anaphoric reference or a jarring homophone. They have to read over, and thereby lose the plot and fall out of the flow. Rather than loving your subject expertise, or metaphoric magic, they're fixating on your grammar. Keep it up and they will be off to your competitors.
Bad grammar conveys an unintended message to your readers, and the meaning of any message you send is in the response you get.
Of course, it's true that "Grammatical writing isn't always good, and good writing isn't always grammatical" Logophilius. However, whether you are a 'descriptive grammarian' (cool "communication is the important thing" kinda guy) or a 'prescriptive grammarian' (anally-retentive 'apostrophile'), you will still need to brush up on your Ps and Qs to ensure successful online writing.
5 Top Tips to Perfect Prose
Double-check every dotted red line. An alien reading even professional first drafts would likely assume that red dotted underlining is a commonly-used punctuation mark. Check your spellings; check you're using the correct form of the word you require (remember those common homophones). And, be sure which dictionary you use too; for example, does your audience expect to see UK or US English spelling in your post?


Have your blog proofread by a professional prescriptive grammarian. No matter how good you think you are at spelling and grammar, it is always useful to have another pair of eyes look at your work.


Speak the same language as your customer. What is the 'readability' level of your target reader? There is an old fashioned thing, sometimes called the 'fog index', which is a statistical measure of how dense or lucid a piece of business writing is. And there's a tool available in Microsoft Word that measures this stuff.


Just don't do it: use the passive construction that is. Dr Ewa Dabrowska says. "Our results show that a proportion of people with low educational attainment make errors with understanding the passive, and it appears that this and other important areas of core grammar may not be fully mastered by some speakers, even by adulthood."



Have fun brushing up on your grammar using language learning tools, such as the lessons offered on the

British Council education

site. The series starts with a sequence of eye-opening grammar exercises and leads you into areas diagnosed as "needing improvement".

Do you know what the solidus is, for instance? It is [aka] the slash/slant/oblique/oblique stroke/stroke.
Bending grammatical rules can give you the nice conversational tone, so essential in B2B blogging and much other business writing. But breaking the rules unknowingly, wounds your organisation's credibility. It can deter buyers both consciously and unconsciously. This has been evidenced in a BBC article, which reported that it is possible to identify the specific financial impact of a spelling mistake on business sales. Analysis "measured the revenue per visitor to the tightsplease.co.uk website and found that the revenue was twice as high after an error was corrected."
The English language is rich in its tone, its complexity and its structure, and it's still evolving. Surely, you owe it to yourself and your audience to honour that intricacy by getting your content writing right.
Image dullhunk
For more writing tips on creating the best content for your business, download our free eBook below: