55% of marketers say blog content creation is their top inbound marketing priority. But, in a world where companies are starting to think more like media publishers, are text-only blog posts still holding people's attention?
According to one study, "91% of consumers now prefer interactive and visual content over traditional, text-based or static media." Plus, 65% of the population are visual learners.
But this doesn't mean we should be putting our pens down and aborting blogging altogether. And if you're not convinced of this, I implore you to read this blog post.
However, we can use visual media to complement and invigorate those written blog posts...
Why include visual media in your blog posts?
People land on your blog post because they're looking for an answer to a question or a solution to a problem. And we know that in many instances people will scan a blog post to find what they are looking for, rather than reading them in-depth.
Visual media grabs attention and breaks up chunks of text so that it's easier for people to find the information they need. Videos, images, and infographics can convey information in a way that is quicker and easier to understand.
By including visual media, you provide more opportunities to connect with people in their preferred learning style. You serve both the skim readers, as well as those looking for more depth and detail. People will stay on your post for longer. And finally, by including a mix of visual formats across your blog posts you offer more variety that keeps regular readers engaged.
In addition, from a social promotion standpoint, visual media is highly shareable. It's also ripe for repurposing.
So, what types of visual media could you include in your blog posts?
Video
There are a number of ways you can incorporate video into your blog posts.
A video tutorial can help you explain complex topic matter in a way that is easier to understand.
A video summary will allow you to share key messages in a more engaging way. And a blog post with video footage of an interview is far more compelling than reading through a transcript.
Where possible, creating your own original video content can be really powerful. So, next time you go to interview someone for a blog post, consider whether you could do it in person and film it.
Often, the easiest option may be to use internal people to front the video. Having a colleague explain or summarise something to camera can be a great way to add both depth and personality to your blog post.
Alternatively, you can use third-party videos. There may be a great video summary on YouTube related to your blog post topic that could help enhance the experience for your readers. Treat it in the same way you would a quote from another source in your blog post - add the video, reference the source, and offer your own commentary.
Unsure how to embed a video from YouTube? If you're a WordPress user, take a look at this article. If you're using HubSpot, head over to this knowledge article.
To share an example, WordPress used an explainer video in this blog post about switching web hosting providers: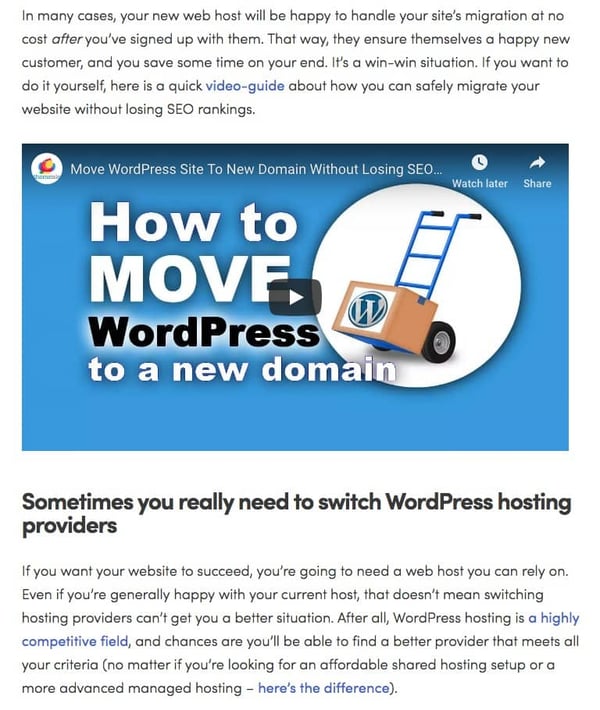 Images
Blog posts with images get 94% more views on average than those without images. Aside from adding a bit of excitement to your blog post, images can be used to explain or demonstrate something, or to pull out a key message, like a statistic or a quote. Explainer images, for example, can support 'How to' blog posts.
But, don't just add images for the sake of it. Make sure that they are adding value, rather than distracting from the content.
Here's an example from a previous blog post where I used an image to explain the inbound marketing process: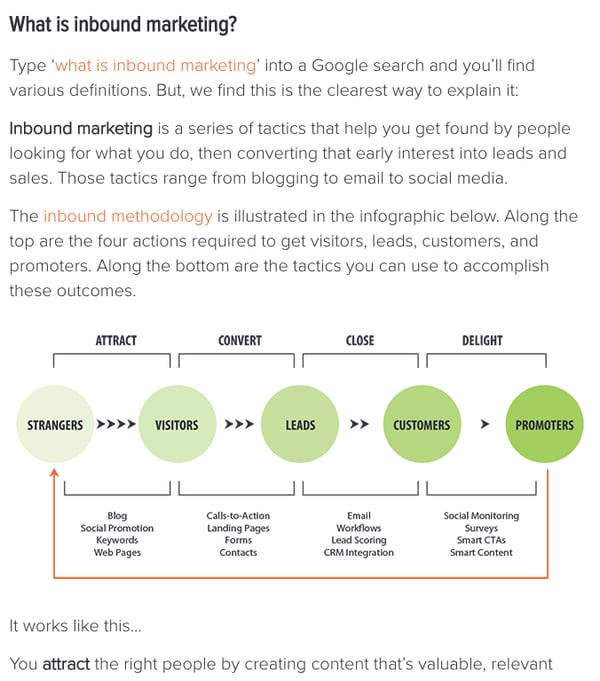 SEO expert Neil Patel regularly uses multimedia in his blog posts. In this example, he uses both imagery and video to educate readers on how to find the right keywords to rank for: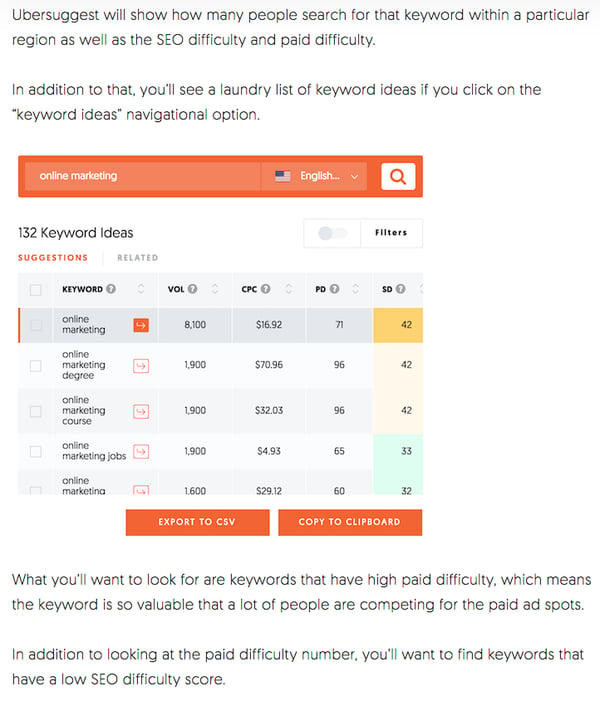 Infographics
Infographics are a great resource to add to blog posts as they can be repurposed in so many ways.
Take a portion or a snippet of an infographic - yours or someone else's - and use it to add context or extra sustenance to support your written message.
Infographics use both imagery and text to present information in an attractive and digestible way and are ideal for drawing readers' attention to a fact, statistic, or concept that you want to share.
In this example, Smart Bird Social used a snippet from an infographic in her post, which quite aptly, is about creating infographics: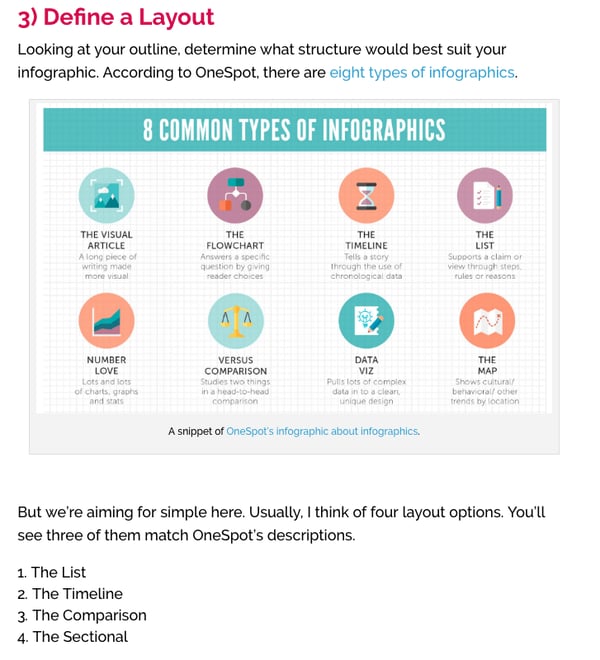 Visual media doesn't just mean videos, images, and infographics though. You could also include presentations using tools like SlideShare, or even take a clip from a podcast. The opportunities are vast, and who knows where this will lead in the future. How long will it be until we start to see companies including interactive videos in their blog posts?
Things to remember
Visual media can breathe life into your blog posts, but only if used with a clear purpose. Here is a list of when your blog post might benefit from visual media:
To support 'how to' posts
To aid readers' understanding
To highlight a key takeaway
To break up long passages of text
To summarise information in a more engaging way
To bring examples to life
Just a few other things to think about:
Visual content should enhance your blog post, not distract from the message you're trying to get across
Always signpost visual media in your written text
Always optimise the size of your visual media to your blog post
Give credit where credit is due (e.g. if the content is not your own)
With so much text-based content published every single day, it's becoming harder for marketers to captivate their audience. Written blog posts are not going anywhere, but incorporating ways to supplement those blog posts with visual media may help you to boost engagement.
The biggest problem for marketers is producing engaging visuals consistently. So where possible, look to your existing visual content as a starting point, and see if you can repurpose any of it for use in blog posts. And don't be afraid to use content created by others.