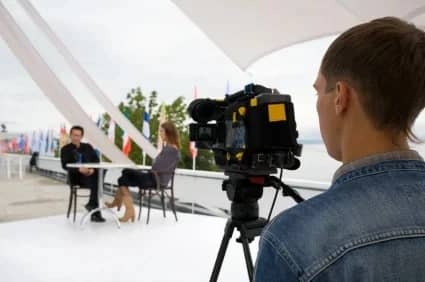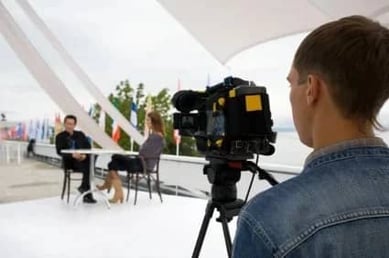 Web video for business is big business. If you've got a website, then you will most certainly benefit from having video content on it.
Indeed, some of the world's leading organisations use B2B online video to spark relationships and conversations.
People buy people
Having video on your website makes it easier for visitors to connect with your company. This is especially true if your video features you or your colleagues. People buy from people and they love to put a face to the brand. Show yourselves via video, and you grab that chance to make an instant and meaningful connection. That connection, of course, is what can ultimately lead to increased sales for your business.
The format is familiar
Video is lively and engaging and, importantly, delivers its message in a way most of us are used to receiving information. Years of watching TV and films have conditioned us to receive information visually. Today, it is common to search for information on YouTube and other video sharing websites. So if you are running a business, it makes sense to make information available through your own web video channel.
Web video is 'sticky'
Web video is what marketers call "sticky content" – that crucial element that extends the duration of website visits and makes those visits more meaningful and more likely to generate enquiries. What's more, videos can be accessed 24/7, which is especially important if your business appeals to a global market.
Video can pack a lot into a little
It is easier to present multiple ideas quickly in a video than in a long piece of written information. Using a clever combination of graphics and speech in a video allows you to share several propositions at once. This is excellent for B2B online video in particular, where you may be using the medium to present thought leadership or opinion pieces.
Web video can enhance your 'social' engagement
The influence of social media makes itself felt across business, and you should certainly have a presence on those sites. But written content alone isn't enough to capture the attention of consumers and prospective business partners; not when there are so many other fan and business pages competing for their attention. Linking to web video from your social networking pages gets people immediately interested and engaged; the result is more brand awareness and more click-trough's to your website.
Web video can capture and re-purpose multiple events
You can also use web video for business in other settings, such as conferences and trade shows, and to showcase your best work and most glowing customer testimonials.Videos have multiple uses, meaning that you really get value for money out of them.
Next best thing to word of mouth
video is second only to word of mouth for influencing decision makers and consumers alike. Can you afford to ignore the power of web video for your business?
If you would like more information on setting up your own web video strategy you may be interested in our Web Video White Paper.
What is your experience of web video in your business? What are your top tips for getting it right?