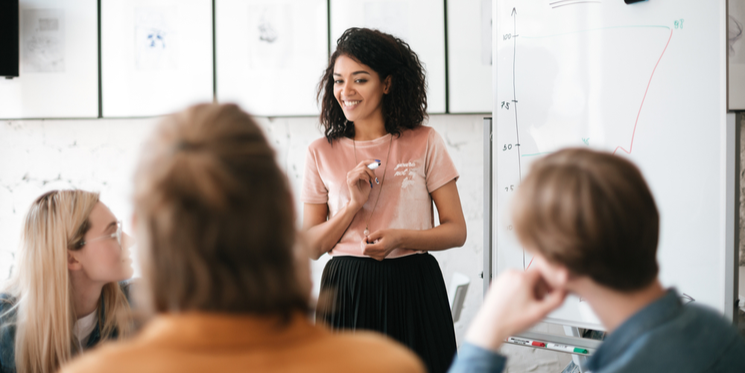 Web video is widely used by digital marketers as a way to influence B2B purchase decisions. And, as a leading advocate for your brand, you might on occasion be asked to step into the spotlight to share your thoughts and expertise.
Whether you are comfortable with public speaking or not, the idea of appearing on-camera can seem daunting. But genuine, helpful testimony will greatly enhance your viewers' product understanding - as well as their readiness to buy.
Here are some simple ways you can improve your on-camera performance.
Preparation is key
Circulating a video marketing script, or a list of questions that might be asked in interview, ahead of time will help speakers to properly prepare.
Rehearsal can be beneficial. Feeling equipped with the knowledge of what's to come can help eliminate speech anxiety and allow your speaker to come across more comfortable, confident and relaxed on camera.
You can also reduce stress on the day by collecting and sharing information about the logistics of the day well ahead of time. Knowing what to bring with you, where to park and when and where you are expected to be will help the video shoot run more smoothly.
Don't stop
In real-time, sentences aren't perfect. Conversations are full of non-sequiturs, false starts, stumbles, recants and repetition. But by and large, people hang in there.
On set, there can be a tendency to halt and restart at the first hint of a perceived flaw in performance. The pressure of keeping up appearances can drive people to become overly critical of themselves.
Keep going even if you make a mistake. It's not the end of the world if you fluff a word on web video.
Your editor will have much better material to work with if you hold your nerve and recover: two full takes are better than six first halves. And the more you force yourself to push on, the easier it will become. The pause button is a safety net that encourages you to stop - resulting in you stalling more and more frequently out of habit, uncertainty or sheer nervousness.
A video script and professional autocue can help keep you on track.
Remember you can take the shot again
It's unlikely you'll achieve everything you want to in your very first take. However, your video producer will be able to offer constructive, actionable feedback on your delivery. Perhaps you need to slow down, pronounce something a little more clearly, or add extra emphasis in a certain place - whatever it is, you will be pointed in the right direction by your chosen video marketing agency. This collaboration will help you to refine your video presentation skills.
Your confidence should grow with practice. The best performances occur a little after you've been through the process once or twice and settled into the swing of things.
Knowing you can reshoot will help you adhere more strictly to the first rule (don't stop!) Unless you're on a Hollywood set, it's better to attempt another take than to rebook crew or extend post production work because you were impatient to finish quickly.
Trust your video director to tell you when it's a wrap. They will have an eye for edits and be conscious of time.
Speak to your customer
Video marketing has greater impact when it strives for authenticity. People online are interested in genuine solutions.
You can improve your on-screen presence by imagining you are talking directly to your customer. This should affect your content as well as your tone of voice.
Thinking of the camera as a person helps to improve your storytelling. Ask your video producer where to look on camera to convincingly speak to your viewer.
Use analogies and bold, action words to sell your story.
Experiment with an interview format
An interview format can help direct the conversation on-screen if you are not using a video script. When the main speaker is nervous, this may be a good format to try.
In this scenario, if the star of the online video falters, an interviewer can prompt them with further questions. Speaking to another person, is one of the easiest ways to help build confidence.
If you are going to be featured in a video interview try to answer in complete sentences that include the question in your answer. It may feel unnatural at first, but this will allow the editor to cut out the questions asked by the interviewee. This will reduce the length of the video, and speaking in this way will create better sound bites.
Appearing on camera
As a representative of your business you will want to look your best on video. For this, you'll need to dress for success!
If you are wondering what to wear, know that spots and stripes are best avoided, as they can create an undesirable optical effect called a moire pattern. For low quality cameras, all black and all white clothing should be avoided, as they can be severely contrasting. Logos and motifs have the potential to distract from corporate branding. Also be aware that glasses reflect glares from professional lighting.
It can be hot under the lights. Regardless of gender, many people who appear on camera choose to wear a little make up to disguise blemishes and reduce face shine.
Be especially mindful of your body language. How you sit or stand in front of the camera can have an impact on the delivery of your message. Adopting a strong, steady stance and using small gestures with your hands will allow viewers to focus closely on what you have to say.
Appearing on camera needn't be a worry with the right team around you. For the very best results all you have to do is relax, keep your buyer personas in mind and trust your video production team.