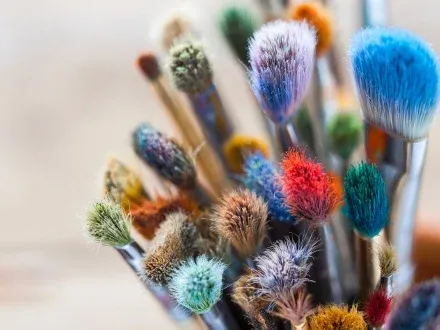 Content is the fuel for your marketing efforts – it's crucial for connecting with your customers and providing them with the information they need. But content can't just be churned out and left to do its work. The best content is memorable; it's highly-researched; it's visually appealing. It's creative.
In order to boost your B2B lead generation, you need to implement creative marketing solutions that will capture your audience's attention and bring them closer towards your solution. If they like your content, they will want to find out more. Therefore, they will be more willing to give you their contact details in exchange.
Achieving this means approaching content as though it's a work of art. Yes, creating content is a process and there are certain boxes that you have to tick (using the right keywords, targeting the right people etc.). But it's also an opportunity to spark your audience's imagination and show them why you are the business they ought to be working with.
1. Create long form blog posts
Lengthy blog posts, packed full of interesting information, images and infographics, that really delve into a topic are highly valuable. They demonstrate to your audience that you understand what you're writing about and have the knowledge to explore the subject in detail. And they stand out, rising above the multitude of short posts that barely brush the surface of the topics they are addressing.
So when I say long, how long do I mean? Well, at least 1,000 words; maybe more. That can seem a daunting prospect at first, but if you write with passion about the issues that are pertinent to your buyer persona – and that your product or service can help with – then you should have plenty to say.
Long form blog posts attract more traffic and garner more leads than their shorter counterparts. According to research carried by BuzzSumo and Moz in summer 2015, analysing one million articles: "85 per cent of content published (excluding videos and quizzes) is less than 1,000 words long. However, long form content of over 1,000 words consistently receives more shares and links than shorter form content."
It's really a case of quality over quantity. Yes, you should be blogging regularly and, preferably, publishing your posts at the same time each week. But if you end up writing fewer posts one week because you want to spend more time on a particular one, that's perfectly okay.
2. Go off-piste
Blogging is at the core of content marketing. And it works. It drives traffic to your website, provides you with an evergreen resource – and it generates B2B leads. But sometimes it's worth leaving the beaten track and trying something new.
For example, why not create a series of podcasts or videos that address a particular topic? Exploring a different medium will allow you to exercise your creativity and your regular readers are likely to be intrigued by your new approach.
It can also be easier to put across your personality – and the brand values of your organisation – in a podcast or video. Done right, they can elicit interest, laughs, and, most importantly, a desire to find out more – all of which delivers new leads.
3. Tell a story
Your buyer personas should be able to recognise themselves in the content you create – it should highlight the specific problems they face and the questions they have. While this should be implicit in all your content if you want to get particularly creative, why not craft a narrative that has your buyer persona as the protagonist?
You may have heard of The Hero's Journey, a common story structure devised by mythologist Joseph Campbell. The Hero's Journey essentially involves a protagonist (the hero) setting off on an adventure, overcoming obstacles, and returning transformed with new knowledge or power.
The concept could be compared to the buyer's journey: a prospect starts out with a problem, consumes content about their difficulty and decides on a solution. By positioning your reader as the hero in your story, you immediately create a connection with them.
And you don't have to go down the "once upon a time" route. A good tactic is to simply set the scene at the start of a piece of content, whether it's a blog post, eBook, podcast, or the like. By outlining the potential problems your audience may be facing, you prove that this content is about THEM. And the solution offered will help THEM. So they're more likely to give you their details.
4. Newsjack
You may have heard the term newsjacking. It essentially means creating content about a breaking news story in a way that ties in with your business.
David Meerman Scott wrote the book, Newsjacking, How to Inject your Ideas into a Breaking News Story and Generate Tons of Media Coverage. He says: "[Newsjacking is] the process by which you inject your ideas or angles into breaking news, in real-time, in order to generate media coverage for yourself or your business. It creates a level playing field – literally anyone can newsjack – but, that new level favours players who are observant, quick to react, and skilled at communicating. It's a powerful tool that can be used to throw an opponent or simply draft off the news momentum to further your own ends."
You can't simply jump on a breaking story because it's getting lots of coverage and people are really interested in it. There has to be a genuine link to your business and/or industry. Done right, the results can be amazing, but relevance is key.
Let's say, for example, that you are a marketing agency. A news story has just emerged that a political candidate has had their ISP address blacklisted after sending thousands of unsolicited emails to promote their cause. In response to this, you might write a blog post about good email marketing practices. By linking it to the topical news story, you add interest to your post, show the relevance of your product or service to the real world, and may even increase your reach by attracting new readers who are searching for stories about the politician.
This approach helps you to stand out from the competition. You become a more favourable choice and, as a result, your B2B leads increase.
We all want our content to result in B2B lead generation. But in order to do so, it needs to stand out and gain the attention of the right people. Injecting creativity into your content creation can help you to produce far more interesting and valuable work that will make your readers want to find out more. And when their interest is piqued, they are more likely to become a lead – and progress along the path to becoming a customer.