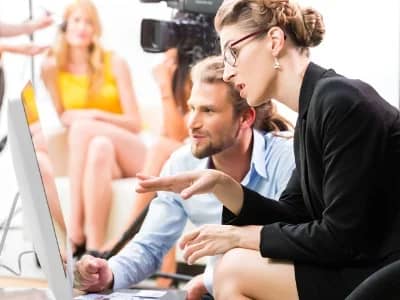 For many people, being videoed is up there with their worst phobias. Even the most dynamic personality can find themselves trembling in front of a camera. And for others it's a breeze. The quietest person in the office can be transformed once the spotlight's on them.
But whether you're a natural on film or feel queasy at the thought, there's no denying the power of video when it comes to B2B marketing.
"A minute of video is worth 1.8 million words," according to Forrester Research's Dr. James McQuivey. And over 70 per cent of marketers say that video creates more conversions than any other medium.
Adding video to your digital marketing mix can help you reach and influence more people at each stage of the buyer's journey.
However, despite its track record for success, lots of businesses are still wary about investing in video production – and why shouldn't they be? It sounds expensive and seems like a mammoth task to add to the workload.
But you don't have to possess the budget and expertise of a Hollywood producer to create video content that will capture the attention of your audience.
1. It's not as hard as you might think
In today's technological landscape quality video production equipment is more accessible than ever before. You don't need a professional studio or large camera crew – and your team don't need to be brilliant actors.
Creating video content is all about solving your viewer's problems. It's great if you have the funds for a slick production but, equally, a simple tips and tricks video or a customer testimonial can deliver a real return on investment.
Think about what difficulties your audience are facing and how you can address these on film. By defining the purpose of your video it will be much easier to get your teeth into the finer points of planning.
2. Video can explain difficult concepts
Many products and services in the B2B sector are hard to write about. It's a challenge to describe how something works, or what you do, in a clear and concise way.
So why not adopt the "show, don't tell" technique? This will allow you get right to the heart of how your business can provide a solution to the viewer. And it also means you don't have to worry about using highly technical language – calling a component "this bit", for example, doesn't matter if your audience can see exactly what you're describing.
Adopting a colloquial tone also makes your viewer feel as though they are being addressed directly, which makes it more likely that they will feel a connection to your company.
3. There's a growing demand
"It is crucial for marketers to start creating and incorporating video as part of their content strategies," says Syndacast, which predicts that 74 per cent of all internet traffic will be video by 2017.
Of course, a large chunk of that traffic will consist of Netflix film and series, YouTube stars and viral cat videos. But there's no denying the appetite is there – people surfing the web are more than likely searching for video content.
So why not tap into the trend? People like watching videos and they also want information about the products or services you provide – it's a formula for success.
4. You can always outsource
Perhaps you're sold on the idea of video but not convinced that you possess the right skills in-house; or maybe you don't have enough time. Whatever your reservation, outsourcing could provide a solution.
Working with a professional production crew can help you to achieve the results you want. It's a good idea to ask to see examples of their previous work to ensure that they are the right choice to help you deliver a compelling message to the viewer. And it's important to negotiate a budget and make clear the quality of the output you are expecting before you start filming.
You can also outsource the editing, which will help you to get the very best from your video content – and will likely make the process quicker!
5. There's a choice of hosting options
When it comes to hosting your video, two of the biggest platforms are YouTube and Vimeo. YouTube has more than 1 billion users and 300 hours of video are uploaded every minute. It's free to use and your video can be easily shared and embedded. Vimeo costs £159 for a pro account and delivers a more professional quality for your videos – with no adverts.
However, when it comes to B2B video content you might want to consider Wistia. It offers professional video hosting, as well as analytics and video marketing tools. There are a range of plans you can choose from, starting from free to upwards of $300 a month.
Investing in video production can reap rewards for your business and it doesn't require in-depth expertise on your part. Video content is in demand – and appetite is only set to increase – so think about how you can solve your audience's problems on film. With the option to outsource and a selection of hosting options available, you can make video production work for your company.