'Smarketing' - What every CEO wants today.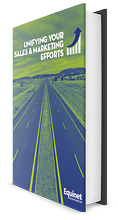 By now, you will understand the importance of mending the traditional rift between sales and marketing - according to research from Hubspot, organisations with better alignment between sales and marketing achieved 20% annual revenue growth.
By contrast, companies with poor alignment saw revenues decline by 4%.
Download this free guide today and learn how to:
Set up closed-loop reporting
Define your funnel stages
Track and hold both teams accountable through dashboards & reporting
Keep the sales & marketing communication flowing
Fill out the form now and download the guide immediately.