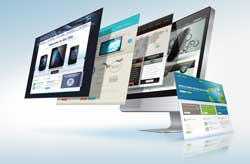 Your website sits at the heart of your inbound marketing efforts, so it needs to be designed and built to support those efforts and make the most of the increased traffic and leads.
The HubSpot CMS has been developed from the ground up to work harmoniously with HubSpot's full-funnel marketing solution. With it, your content is optimised for search, responsive to any device, and is able to deliver customised experiences for different visitors depending upon who they are and what they have done.
Equinet will work with you to design and develop a "customer-centric" website on the HubSpot CMS. Your new site will be focused on the experience of the visitor, with benefit-led copy that will help visitors identify their business challenges and understand how your offering can help overcome them.

HubSpot CMS Platform Features
Integrated with every channel - all of your marketing tools, including your website, work together, giving your customers a seamless experience and you a single platform to run your marketing.


Responsive - no matter the device your visitor uses - PC, tablet, or smartphone - your website will look and work right, giving them the experience and information you want them to have.


Personalised - create contextual user experiences by delivering different content (copy, images and/or calls to action) to different visitors, based on their stated interests, lifecycle stage, particular buyer persona, or previous behaviour on the site.


Easy editing - the CMS has a straightforward management interface, enabling even the most inexperienced of your users to add content and make changes to pages with ease.


Flexible design - the design tools are straightforward yet powerful, with functions like "drag and drop" layouts, custom code creation, and image management to empower marketers and advanced coders alike.


Security and speed - the HubSpot CMS enjoys world-class intrusion detection systems monitored 24x7 by trained security analysts. All websites on the CMS are hosted in state-of-the-art data centres with high level physical and network security.
---