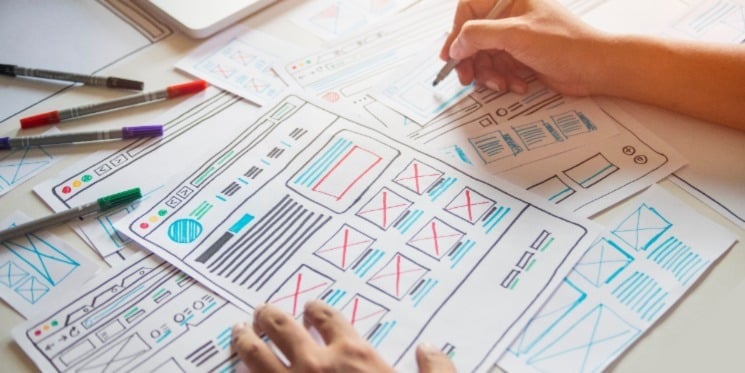 Traditional website design typically means months of planning, a lot of back and forth, and frustrations over scope and budget. But now, there's a better way to build high-performing websites. It's called Growth-Driven Design (GDD). We explore what it is, the benefits, and how it works.
What is Growth-Driven Design?
Growth-Driven Design (GDD) is an effective method of designing and developing a website. It involves using real customer data to optimise your website through ongoing cycles of continuous improvement.
The traditional website design process is flawed, often involving a high up-front cost and a lot of time and resource commitment.
And most websites typically sit with no major updates for two years or more. But if too much of your website remains static, your SEO will suffer, and visitors will lose their trust in you.
GDD looks at website design from a different angle. It avoids all the risks inherent in the traditional web design process by taking a systematic approach that shortens the launch time. It requires constantly researching, testing and learning how visitors use your site to inform a programme of ongoing website improvements.
GDD is tightly integrated with marketing and sales. What you learn about visitors helps inform and improve marketing and sales strategies and tactics - and vice versa.
What are the benefits of Growth-Driven Design?
Faster website launch and ROI
With traditional website design, the average SME website takes three months or more to complete - with no possible return on investment until after launch. GDD means a shorter time to launch and you'll start seeing a return on your investment sooner.
Easier to budget
Building a whole new website often requires a substantial upfront cost. The average SME website can cost anywhere between £15,000 - £50,000. And unfortunately, many website projects are delivered over budget. A website built using GDD is built in stages, making it easier to plan your budget.
A more agile approach
New websites are often built to a rigid brief and are difficult to realign once launched due to the inflexible nature of their structure. With GDD, you can assess the effectiveness of your approach as you go. And there's no risk of your website ever being completely out of date.
Drives optimal results using real data
A website built using GDD can help you achieve your marketing goals more effectively because it's built on insights derived from real data. It removes the guesswork so that you can develop a truly peak-performing website.
Fuels inbound marketing efforts
GDD helps fuel inbound marketing success. Inbound marketing helps attract prospects to your site and convert them into leads and customers, while GDD delivers all the mechanics that make those conversions possible. Together, GDD and inbound marketing align to create a powerful lead nurturing machine.
So what does the GDD process look like?
How does Growth-Driven Design work?
The growth-driven design process consists of three key stages:
Strategy
Launchpad
Continuous improvement
1. Strategy
The first stage is strategy. Here you develop a solid foundation that you can build your process upon.
Developing your strategy requires these four steps:
Goal setting - What are the performance goals you are trying to achieve with your website? And how will this impact overall marketing goals?
Buyer persona development - Who do you want to attract to your website? If you've invested in inbound marketing, you will already have detailed buyer personas for your ideal customers. As GDD centres around users, your buyer personas will set the stage for all activities.
Website audit - How well is your site performing? What's working well and not so well? This will help identify opportunities for improvement.
User research - What more can you learn about how visitors use your website?
Once you've gathered all this information, you can develop a global strategy for your website as a whole and a specific page-by-page strategy for each key page on the site.
Taking what you've learned in your strategy planning, you can create a wish list of all the ideas you'd like to include on your website, from the pages you want to include, to the specific features and functionality, to the design elements.
The key here is not to hold back. Brainstorm everything you can think of. And don't get hung up on the existing website. Think of everything you'd include to achieve your goals if money, time and skill weren't an issue. A good wish list could have anything from 50 to 150+ things on it.
2. Launchpad site
This next step focuses on designing and developing your key website pages. For instance, all contract manufacturing websites would require a homepage and product or service pages, and an about page. This is called the launchpad site.
The launchpad site should be launched quickly and will not be definitive. Try not to get bogged down in analysis, features and content while building your launchpad. It doesn't have to be perfect at this stage. The idea is to get it out there and have a solid basis to improve continuously.
So how do you decide what goes on the launchpad site?
Here's where you come back to your wish list.
Tease out the 20% of action items that will produce 80% of the impact and value for your website's users. In other words, identify the things on your wish list that will make the most significant impact with the least effort.
You may need to whittle your list down even more. In which case, pick out those that are a 'must have' rather than a 'nice to have'. If unsure, for each item, ask yourself whether it's necessary for the launchpad site or if it could be built into the site in a few months' time.
Once your launchpad website is live, you move on to ongoing cycles of continuous improvement.
3. Continuous improvement
At this point, you've launched the new site and will be gathering data on how real visitors are interacting with the site. Through A/B testing, heatmaps, traffic analytics and more, you can identify where to tweak your site to improve its performance.
At every stage, it's crucial to consider how each element provides value to prospects and customers visiting the site.
Continuous development requires a four-step process:
Plan - Determine what action items can be accomplished during a cycle by comparing your site's current performance against the goals you set back in the strategy phase.
Develop - You can now start implementing your action items on the site. Each action item you implement should be considered an experiment to see its impact on the website's performance, so everything will need to be tracked and measured.
Learn - Once you've had enough time to run each experiment, the data is reviewed and then shared to educate and inform new team members and future cycles. For example, you may learn that visitors are more likely to read an entire piece of content if the first paragraph contains fewer than 100 characters, or that they are more likely to engage with content that includes more than one image.
Transfer - The last step is transferring any valuable information to your entire sales and marketing teams as well as other areas of the business, which improves future efforts.
Once you've completed a cycle with a set of action items, its back to the beginning again to start planning the next cycle, and so on.
With GDD, your website is viewed as something that can change, evolve and grow - just like your business.
Summary
Traditional website design requires a considerable up-front cost, a lot of time and resources, is often over budget, inflexible, and has no guarantee of improved performance.
GDD is a smarter way of building and growing your website. It is quick, agile, and produces better results and ROI. The GDD process involves developing a strategy, creating a launchpad site, and once live, making continual improvements based on real user data to achieve peak performance.