Discover how to develop your buyer personas. Personas that will help shape and form your content. Content that will resonate with your customers and prospects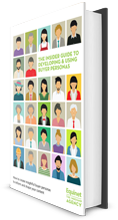 For businesses using an inbound marketing approach, the creation of target market personas is an essential first step.
Well-researched buyer personas help define what the focus of your content should be. They highlight pain points, the kind of material your customers might enjoy, and where exactly they will be looking for answers and information.

'The Insider Guide to Developing & Using Buyer Personas' will help you create comprehensive profiles for each of your buyer personas.

In this eBook we address:
The definition of a buyer persona
Why buyer personas are an essential part of your marketing strategy
A blueprint for the buyer persona development process
How buyer personas can be used to shape your content plan
Fill out the form and we will send you the eBook immediately.