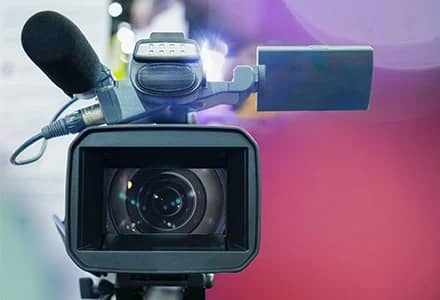 The future of manufacturing marketing lies in the production of good quality content that potential customers will find useful. Inbound marketing keeps you top of mind with prospects until the time is right for them to contact you - on 'their' terms. But in today's competitive market, it's not going to be enough just to be 'useful'; your content has to be well-written, comprehensive and attractive. And by attractive, we mean content that attracts an audience. This means being creative – coming up with content that is both informative AND entertaining.
So here are five creative ideas for content marketing that would work well for manufacturing.
Time-lapse video
Countless statistics, studies and surveys show that video is currently top of the list when it comes to content that people notice and engage with. Did you know, for example, that including video on a landing page can increase conversion rates by 80%? Or that 92% of mobile video consumers share videos with others?
As a medium, video cannot be ignored and has to be considered a powerful tool in your marketing arsenal. But if you are looking for something a bit different, how about making a time-lapse video of your production processes? This could be just the manufacturing process itself, or it could include the design stages at the beginning and the delivery to the customer at the end.
If your production process is commercially sensitive, or you feel it's not particularly exciting, focus in on one aspect you can show, or that is interesting and make a time-lapse video of that.
The great thing about time-lapse videos is that they are relatively easy to make, and yet are something that most people find fascinating to watch.
Here are two examples – the first from the ESA shows the final preparations for a satellite launch and the second is the set build for Bend it Like Beckham the musical.
(If you are not convinced that people find manufacturing processes interesting, just look at the 360+ episodes of the Discovery Communications programme How It's Made that's been running since 2001.)
Top tips from customers
Get customers and users to offer their best tips on using your products or their best advice on choosing and specifying your products. You can then present these via quick video clips or in a blog post. If you can't take a video camera and video them in person, use a video messaging or conferencing app to capture their thoughts.
Another way to use this information would be in an infographic – these are always popular and very shareable on social media – in fact, infographics are liked and shared on social media 3X more than other any other type of content.
Alternatively, you could run a tip of the week as a regular feature in a panel on your website, or in your email newsletter.
Surveys and stats
If you like the idea of an infographic, another great basis for one is to conduct a survey or to gather various industry statistics together in one place. Buyers are always looking for facts to back up their decisions, so good solid data, clearly presented, is always sought after. As well as an infographic, the information can be produced as a slide deck posted to SlideShare or as an eBook/report.
And if it proves popular, then update the same information every year so your audience can see trends. If your survey is exclusive, then you will often find it gets picked up by industry pundits and news sites – spreading the brand and the influence further. A good example of this is Hubspot's annual State of Inbound report.
Ask the experts
This time of year is a good point at which to look back and draw lessons from the last year or to look forward and predict trends for the coming year(s). The best way to do this is to ask recognised industry experts and your top customers for their views and predictions. This can be done quite quickly and easily by phone or email. And you don't need a lot of content from each – if you get a few sentences from twenty different sources – that's easily enough content for an article.
Asking your customers can also be quite flattering – so it's another way to nurture the sales relationship and to help them feel valued.
Attention getter
One way to get people's attention is by using your product in unusual ways. A great and often quoted example of this is the long running and highly successful Will it Blend campaign – which features videos of Blendtec's blenders being used to blend all sorts of mad items such as trainers, glowsticks or iPhones.
Think about your product – or the way it is produced. Is there something fun you can do with it? Is there an interesting or unusual capability you can play around with?
It should go without saying that anything you feature should be safe and not promote a dangerous use of your product. Blendtec always stresses "Don't try this at home" – it's almost become a catchphrase of theirs.
Compelling, inspiring, exciting, even humorous content is very effective in engaging your audience and may even be shared by them with their peers. Remember that although manufacturing is often a serious process, and buyers will be looking for solid information; if you can present that information in interesting and entertaining ways, you will grab their attention and create higher levels of engagement and ultimately sales.