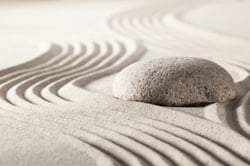 Occasionally, we meet organisations with growth ambitions who are excited by how inbound marketing could transform their business, but are not quite ready to handle the increase in traffic and leads or commit the resources required. They recognise they need a new website but are still a little way off being able to undertake an inbound marketing programme.
For businesses like these, we offer a "pathway to inbound" that delivers growing benefits while staging website and programme development over time, in line with their capabilities.
Inbound-ready websites for growing businesses
In the first stage, we build an "inbound-ready" website on the WordPress CMS platform. This website will be developed with many of the foundational structures in place to support inbound tactics in the future. This includes things like blog functionality, customer-centric UX design, future call-to-action planning, optimised structure for search engines, and copy consultation from our content team.
At the beginning of the process, you will have a half-day workshop at our offices to help understand your business goals and your buyer personas. This will make sure your new website will get you off on the right foot towards supporting a future inbound programme.
Don't get us wrong! Just because this isn't a fully developed inbound website doesn't mean that it will be half-baked. It will be a great looking, fully-functioning website that will put your business in a great light.
The Rainmaker platform for WordPress
When you are ready, we will migrate your first-stage site onto Rainmaker, a marketing platform for WordPress developed by the reknowned content marketing solutions provider, Copyblogger Media.
Rainmaker shares similar features and ideology with the premier inbound marketing platform, HubSpot, enabling content-driven websites for attracting inbound traffic and converting leads. It doesn't offer the full-fledged inbound marketing functionality that HubSpot does, but it is a fantastic halfway house that enables you to start reaping the rewards that come from running an inbound programme.
During this stage, we will offer you regular inbound support in the form of a monthly services package. This won't include content creation, but will include keyword research and optimisation, conversion path creation, campaign development, and reporting and analytics, as well as consultation and training.
Transition to HubSpot inbound marketing
The final stage of our pathway process is to migrate your site to HubSpot and to develop your inbound programme fully.
As with previous stages, we will handle the migration and any additional web development required to get you up and running. At this point, you will likely be ready to tackle a complete inbound programme and we will help you with all aspects of developing an implementing that programme, including the initial strategy, inbound tactics and content creation.
If you haven't done so already, check out our inbound packages for a better understanding of the services we offer.
---


If you'd like to discuss how Equinet can help you with a website redesign, especially as part of an inbound marketing programme, contact us for a free, no-strings consultation.