What you will discover in this eBook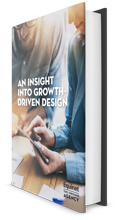 Whether you're starting from scratch or embarking on a relaunch, traditional website design can be a minefield.
Growth-driven design is a data-driven, agile approach which produces better results, with less risk, in half the time.
This eBook outlines the growth-driven design process and explores how user-centric analytics and continual site improvements enable you to avoid web design disaster and grow your business online.
Download the eBook to explore:
Fundamental flaws in your current approach to website design
How marketers are adapting to produce better results and ROI
The 'three pillars' of growth-driven design
How to implement the growth-driven design strategy
Fill out the form and we will send you the eBook immediately.