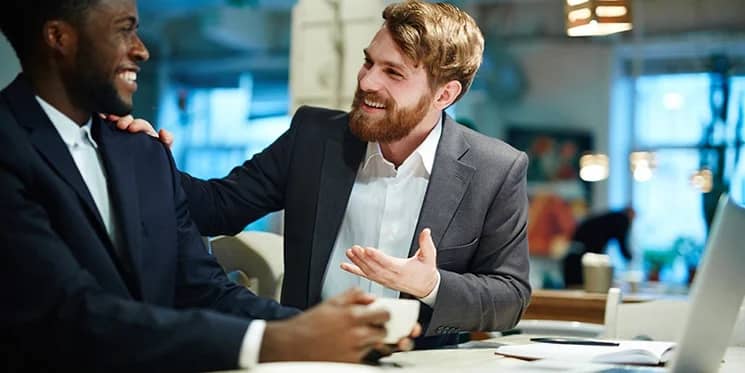 No professional services company can survive without new business, and securing those leads is the highest priority for most B2B marketers. With traditional methods proving less effective, companies are turning to inbound marketing – but what type of content should you produce? How should you go about it? And what's the best way to deploy it to generate the most leads?
Use the powerful social media echoes
Traditionally, professional service companies have looked to referrals to bring in new business. In our digital age, social media can help boost the power of referrals to reach a much wider audience.
If you have a satisfied client that you have a good relationship with, ask them for a testimonial or feature them in a case study – both of which you (and they) can share via social channels.
Make sure your content includes lots of good images and videos that are worth sharing. Include in your marketing materials – both digital and printed – all your social details: your Facebook, Twitter, and particularly LinkedIn details. And don't forget to include prompts to post and share on all the content you produce. Participating in appropriate groups, publishing and sharing posts, and engaging with prospects can bring real results to professional services marketing.
Create evergreen content
The classic way to generate leads is to offer something useful and valuable to a prospect in exchange for their contact details. They probably understand that they are giving you an opportunity to sell to them, but they will weigh that up against the value of the offer and sign up – if you have the right offering.
White papers and eBooks containing exclusive and valuable research and data about an industry can be a great way to persuade a prospect to part with their details. Or perhaps it's a study that offers them the facts they need to persuade their board to purchase?
These types of long-form content can be 'evergreen' – they can be used and re-used many times and remain effective for a long period, so although they may take some time and resources to produce, they will more than recoup that investment.
Share your valuable case studies
According to Demand Gen's 2016 Content Preferences survey, 73% of respondents said that case studies were the most valuable type of content that was viewed during their decision-making process. There is nothing more persuasive to a buyer than the story of a customer in a similar situation to themselves who has had great success with a particular company's products or services. A good case study can be invaluable in winning over prospects, not only in helping to establish your company as trustworthy, but also demonstrating how you go about solving problems for clients.
Attract prospects with valuable freebies
If you can provide free consultations or advice, where appropriate, this is another great way to encourage prospects to provide their contact details and to engage with them. Put a time constraint on the offer and have a structure in place, so they receive real benefit from the consultation and you get an opportunity to demonstrate your potential value to them as a trusted partner.
You could also organise some form of event such as a seminar, conference or networking opportunity. The key here is to offer something compelling – something useful that the prospect can't get anywhere else, or that provides a real benefit to them. According to the Content Marketing Institute, in-person events have been rated by content marketers as the most effective tactic for the last six years. Events are also great for generating a wide range of content – so if you do hold one, be sure to take the opportunity to maximise the benefits of a live event.
An online alternative to an in-person event is a webinar – this has the advantage that your attendees can be geographically dispersed. Generally, you can reasonably ask for slightly more information from a person signing up for a webinar. They are also likely to be genuinely interested in the topic so you end up with a more qualified lead than you might get through an eBook or white paper offer. As with events, webinars can generate a great deal of content – be sure to capture and repurpose this.
Nurture with newsletters
One of the most effective ways to not only acquire a lead, but to continue to nurture that lead, is with an email newsletter. Make sure you have an effective landing page for the sign-up and tell visitors what it is they are getting and how often it is sent out. Provide a sample issue and remind them they can unsubscribe at any time. Too many companies have an email newsletter sign-up page that is ineffective because it doesn't sell the benefits or explain what the subscriber will get.
Keep them hooked with optimised landing pages
Most of these tactics will involve creating a landing page at some point. Since this is the crucial gateway at which the visitor surrenders their information to become a lead, it's essential that it's well executed. It needs to sell the offer but not be too pushy, and it needs to capture the contact details without that becoming a chore or a barrier. Getting your landing page right will yield the best possible return on the investment you've made in creating the offer. Lead generation landing pages that are short and use simple language have significantly higher conversion rates, according to recent research from Unbounce.
You should also ensure that you monitor the traffic to the page and the conversion rates of the page. Look at the data and fix any issues, then streamline the process to optimise your landing page.
Follow all these tips and you should see an improvement in your lead generation – the lifeblood of any professional services company.