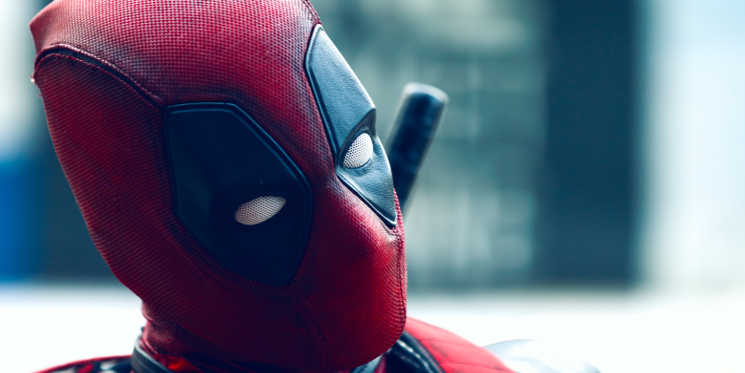 Perhaps you know Ryan Reynolds best as Michael from Two Guys and a Girl, as the CIA Agent in Safe House, or as the title character in the critically acclaimed film Deadpool.
But what about his role in the world of content marketing?
See Ryan Reynolds isn't just a Hollywood film star. When he's not busy smashing out hit films, he's creating some truly outstanding marketing content.
Over the last few years, Reynolds has slowly made a name for himself in the content marketing world, first with the hit film Deadpool (and subsequently Deadpool 2), but also in the drinks industry.
The cool humour and creative intuition he's brought to marketing his Aviation Gin brand has seen him quietly become one of the most effective and entertaining content marketers on the planet. And the industry is starting to take note.
Earlier this year, Aviation Gin took home the title in Adweek's first March Adness bracketed tournament to name today's top advertiser - beating the likes of Burger King, Google, Coca-Cola, Nike and Spotify. And in July, the Content Marketing Institute (CMI) announced Reynolds himself as a 2019 B2C Content Marketer of the Year finalist.
Reynolds epitomises everything we've been talking about in content marketing lately. In the era of content saturation, he's found a way to make a real impact. Thinking like a true media brand, he's creating stories that people want to consume, share and keep coming back for more.
Reynolds is an entertainer with a passion for storytelling who is not shy of pushing boundaries. Let's take a look.
Deadpool marketing
Reynolds had started to make a name for himself in the content marketing world long before buying into Aviation Gin. He spent 11 years trying to pull together financing and studio support for Deadpool. When Fox finally agreed to take the project on, Reynolds became a driving force behind the unconventional marketing approach that eventually saw the movie gross over $750 million.
Making the most of what was a minuscule budget (at least in the world of Marvel movies), Reynolds, alongside 20th Century Fox marketing chief Marc Weinstock, focused on producing content that was truly authentic to the Deadpool character. Using his morally flexible and motor-mouthed persona, they created an arsenal of irreverent content that made it feel like the marketing campaign was being driven by Deadpool himself.
With a steady stream of TV, digital and social media tidbits, they created a barrage of content that people wanted to consume and share. There was the April Fool's interview on TV entertainment show 'Extra' where Deadpool knocks out host Mario Lopez after he insists the movie can't succeed with an R-rating - a clip that has been viewed nearly 2 million times.
Plus there was the 12 days of Deadpool campaign in the lead up to Christmas.
And in a true example of thinking outside the box, some Tinder users looking for love found themselves matched with none other than Deadpool.

Aviation Gin marketing
A passionate gin lover, Reynolds bought into Aviation Gin and became Creative Director in 2018. Of course, having a huge film star involved in your brand marketing is going to give you a significant head start, but the Aviation Gin story is a lot more than just a celebrity endorsement.
Reynolds has brought the same off-beat humour loved by Deadpool fans to Aviation Gin and is focused on constantly surprising audiences with fun and innovative content ideas that push the brand's playful personality.
In one of his first videos for Aviation Gin, he shares the story of 'The Process'. The film embodies the brand's lighthearted creativity by playing on some luxury alcohol brand cliches, with highlights including the citrus fruits being misted by Reynolds' own tears and the gin being "ordained by the church" and "serenaded with healing music".
Then, after revealing his email address on Jimmy Fallon and being bombarded with a barrage of emails, Reynolds posted this message on Twitter that was shared 2,000 times.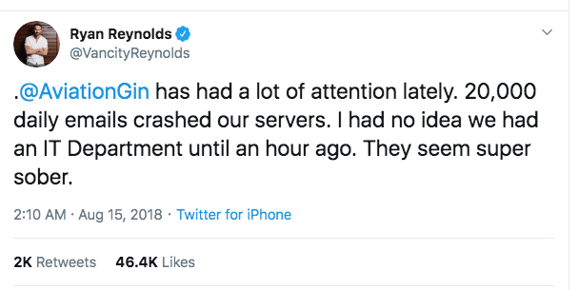 You're even guaranteed a witty automatic response when you email him. Here's the message I got back: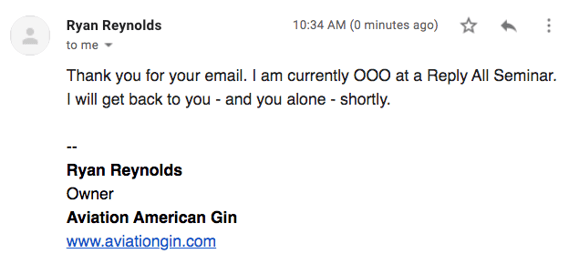 More recently there was the 'Truce' video with Hugh Jackman. Playing on the two actors' ongoing social media war, they paired up to cross promote their respective drinks brands. The video generated over 7.1 million views and over 8,200 comments.
We'll await to see what comes next. But we can be sure Reynolds will keep surprising audiences by bringing his tongue-in-cheek humour to innovative new ways of promoting the gin brand.
So, what can marketers learn from Ryan Reynolds?
While having a Hollywood film star buy into your business would certainly give you a leg up, it's just not realistic for us non-celebrity folk. However, there's a lot we can learn from Reynolds that any business can take and apply to their own marketing strategy.
Every piece of content created for Deadpool and Aviation Gin oozes the brand personality. And this is something every business should be thinking about. You should be cognisant of your brand personality in everything you do, from your web content to your social media posts, your CTA copy - even your automatic email responses.
If you haven't pinpointed exactly what your brand personality is, get the key people in your organisation together and spend some time hashing it out. Perhaps your company is intelligent, fearless, or approachable - you need to make sure you're conveying this message to your customers and prospects. Here are a couple of blog posts you might find useful:
What we can also learn is that it pays to start building your brand reach as early as possible. By the time Deadpool was released in 2016 it already had an army of followers. Ideally, you should be writing your first piece of content at the same time you're developing your product or service.
Reynolds is also proof that the media publishing approach works. So take the opportunity to create an ongoing narrative about your business, your clients and your industry using a range of creative, jounalistic and storytelling techniques. You want to get people excited about your business and your brand, and this is the way to do it.
Finally, if you're invested in inbound marketing, you'll be focused on creating helpful and informative content that guide your customers through a pain point and towards a solution. But, "helpful" and "entertaining" aren't mutually exclusive. We all need a little fun in our lives and humour can be a great way of connecting with your audience. It may not be suitable for every brand, but if it fits with who you are as a company, why not inject a little humour into your content?
The good news is, you don't need Ryan Reynolds - or a Hollywood budget - to do all of these things.