For the last decade, brands have been focusing their efforts on content marketing.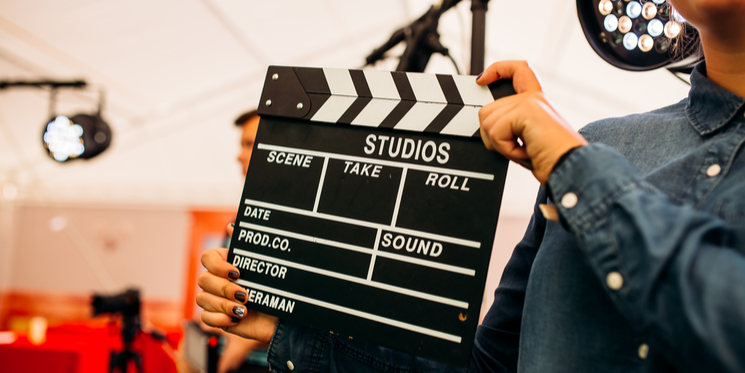 B2C and B2B brands alike have been churning out blog posts, creating eBooks, and promoting them on social media in an effort to generate more leads and customers.
But if everyone in your industry is blogging, and everyone is promoting those blog posts on their social channels, that's a vast amount of content vying for the attention of your ideal customers.
Then there's all the other content unrelated to your industry that's tugging at their sleeve, from the latest Netflix documentary to the biggest news stories.
This means it's time to find new ways to connect with and deliver value to prospects. As well as new ways to differentiate your brand and make it stand out - not just from the direct competition, but from a sea of content that's pulling them in all sorts of directions.
And how do you do that?
By adopting the mindset of a media publisher. By shifting away from creating content and towards creating 'media'. By becoming a media brand and creating stories that will inspire people, that will get people talking about your brand, and that will get them coming back for more.
It's stepping up and taking content marketing to a new level. It's storytelling taken up a notch. And every company has the power to do it.
There are many brands doing a great job of this already. In the B2C world, Red Bull are a first-rate example, as Nikki shared in a previous post.
But what about in the B2B world?
"All B2B brands will be media companies in the next 5 years", according to Chris Savage, CEO at Wistia.
So, who are the top B2B players already thinking like media publishers?
Vayner Media (and The Wine Library)
Vayner Media is a creative agency with offices in London and the US. Set up in 2009 by Gary Vaynerchuck and his brother AJ, it's one of the fastest growing creative agencies of all time.
Vaynerchuck started out working for his father's wine store in New Jersey and is famed for having grown the business from a turnover of $3 million a year to $60 million a year in just five years using the "media brand" methodology.
As well as renaming the store and launching online sales, Vaynerchuck produced a daily video blog. He posted over 500 episodes of Wine Library TV between 2006 and 2011, featuring wine reviews, tastings and advice.
A look back at some of the comments on the old YouTube channel demonstrate the dazzling effect Vaynerchuck had on his audience:
"You've been such an inspiration for my Wine Hobby!! Big, big, big Kudos to you!!"
"Watching your videos taught me more about wine than anyone or anything else."
This is the kind of content that inspires people, that gets people talking, and that attracts a loyal following.
With Vayner Media, Vaynerchuck is now helping other brands build the same success he found himself in the wine industry. And Vayner Media are the masters of practicing what they preach.
Their video podcast, Made in Chattanooga, tells stories around business, marketing, creativity and innovation in the local area.
There's also Vaynerchuck's own GaryVee Audio Experience, a daily podcast with keynote speeches on marketing and business, interviews, and Q&As.
Vaynerchuck proved with The Wine Library that thinking like a media publisher works. He's proving it again with Vayner Media. And in turn, is helping other companies revive their own brands with the same methodology.
Mailchimp
Marketing automation company Mailchimp have created a whole library of original content that "celebrates the entrepreneurial spirit".
There's the Going Through It podcast, hosted by Ana Friedman, where women discuss the pivotal moments in their lives where they had to either quit or keep going.
"I devoured all the episodes in two days and am currently re-listening!"
"I knew about binge watching but I had never found a podcast that I wanted to binge listen to before finding this new podcast."
Then there's their Hamburger Eyes film, which tells the story of how one small photo magazine went on to influence a generation of photographers and became a community of people "dedicated to capturing the iconic moments of everyday life".
Interested in finding out more? Take a look at the trailer:
Mailchimp have also created Wi-Finders, a documentary series exploring how the internet has changed the way people around the world make a living.
And what's the best thing about all these stories? They have nothing to do with marketing automation. Mailchimp have managed to pull in an audience based entirely on interest alone. They've turned their content into a product that people want more and more of.
General Electric
General Electric (GE) are great at taking what they do and turning it into interesting and easily shareable content.
As the world leader in power generation and water technologies, GE are doing some really interesting work and research on a daily basis. Why not share this with people? Especially given the current global environmental crisis, people are interested in this kind of content - and GE are capitalising on it.
Here's one example of a video they've shared, that follows a scientist into the Massaya Volcano in Nicaragua.
As well as focusing their efforts on quick video stories distributed on social media, GE are also producing GE Reports, an online magazine with over 100,000 subscribers.
In an interview shared by Forbes, Tomas Kellner, editor in chief at GE, talks about the evolution from content marketing to thinking like a publisher: "Brand journalism is really a transaction where the reader or viewer is paying us with their time, and we are rewarding them for the time spent with a piece of information they can use in their lives."
Content saturation is a byproduct of the modern world. And it's having significant implications for marketers.
What Vayner Media, Mailchimp and GE are doing is publishing media. They are publishing content driven by stories and characters - not products. They are creating interesting content that keeps people wanting more. Content that inspires people and makes them want to talk about it with others. And content that people want to consume over other media.