What you will discover in the eBook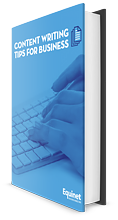 Up until recently, business people didn't need to write very much. We all learned the basic rules at school, but after that, apart from the odd email, you really didn't have to do it any more. Once we entered the world of business we could pretty much leave the writing, well, up to the writers.
But with modern communication landscape, and more nimble and streamlined businesses, even if you wear the manager's hat you probably have to wear the writer's cap every now and then.
This eBook is designed to help you develop your writing voice and craft better copy for your business. Download it today and discover:
Principle rules for writing copy that will set you apart
Specific points you need to remember for b2b writing
How to plan and write case studies, blogs and newsletters
How to optimise your copy for different formats
Structural tools to increase the success of your writing
Fill out the form and we will send you the eBook immediately.