Fill out the form and access the information you need to succeed.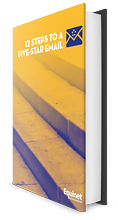 Marketers are focusing more than ever on results from their digital marketing campaigns.
Still high on the list of key tactics, email requires a laser focus on every aspect of a campaign in order to stand out and deliver the results you need.
To ensure that you are maximising conversions and click-through rates, and that you understand what makes email effective, we've identified the 12 key components of a five-star email.
Fill out the form and we will send you the eBook immediately.