Fill out the form and access the information and questions you will need to succeed.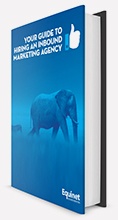 The value and return on investment from inbound marketing strategies is well understood today.
But not all agencies claiming to be "inbound" are the same. Many have different specialties and talents and come from different backgrounds.
However, there are core values and skill sets that make some agencies better than others.
This eBook will help you:
understand the eleven habits of effective Inbound agencies
learn what questions to ask when assessing potential agency partnerships
sort the wheat from the chaff when making the crucial decision about which agency to work with
Fill out the form and we will send you the guide.