Download your free tip sheet on setting a social media policy for your organisation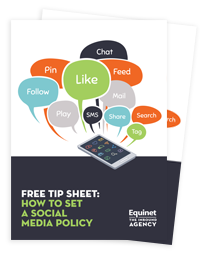 There is no hiding from social media. Your employees undoubtedly all use it to some degree, and so should your business if you want to be seen as credible and current by your audience.
Without a social media policy, you run the risk of your employees using social media in a way which is damaging to your business, either deliberately or out of ignorance.
However, get your social media policy right, and your employees become a collective force for good by adding significantly to your marketing efforts, engaging directly with prospects and customers and providing an authentic voice for your company.
Use this tip sheet to help you to:
explain the strategy and thinking behind the organisation's use of social media.
set clear guidelines for what is acceptable behaviour, and the disciplinary measures for inappropriate conduct.
plan for how to react as a business if/ when something goes wrong.
Fill out the form and we will send you the tip sheet immediately.