Fill out the form and start building the inbound marketing strategy for your professional services company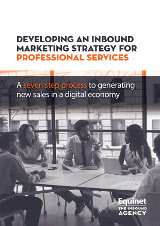 As a professional services business you have long understood the value of your reputation. It's what underpins the referral model you've relied on.
Reassuringly, an inbound marketing approach dovetails nicely with that ethos. And, by putting strategy before tactics, you ensure your new marketing efforts harness the power of the referral model.
Download this eBook to:
Establish a baseline audit with goals and timelines
Conduct research around your competitors
Create branding that sets you apart
Define buyer personas and the buyers journey
Establish a foundation for content creation
Optimise website performance
Close the loop with Sales and Marketing
Fill out the form and we will send you the guide immediately.