What do you want to achieve with an outsourced email partner?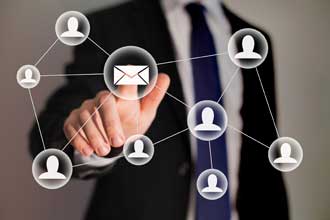 Increased sales, greater brand awareness, more page impressions, all of the above? Segmentation, personalisation, relevancy, list/data quality, are all key aspects to consider too.
So, knowing what is important before you choose a partner is a must. For example, how you build your email list if you've not already got a fully up-to-date and opted-in data set is not without its challenges.
Some organisations still buy data, but this can be a really bad idea. If you do not have an opted-in list you will need to consider a strategy for building an audience, through content marketing, for eample, or build your own subscriber list through the offer of a newsletter. And, of course, start with your existing customer base. You can use social media to promote the benefits of opting-in to your email communications - in fact, you need to promote opt-in at every available touchpoint. Ask agencies how they might help you with that.
Knowing what you want to achieve with your data, segmentation and campaign design before you speak to agencies will help narrow the field. And, understanding the value of dynamic content, triggered campaigns, personalisation and split-testing can further qualify your needs and help with chooing the right email marketing agency partner.
If you want to discuss your email marketing requirements or want advice on options for leveraging professional email marketing, click on the consultation link below and we will schedule a time to provide sales-free, impartial advice to you.