What you will discover in the eBook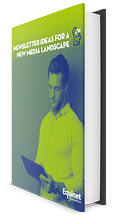 Newsletters aren't new, but there is no doubt they are still effective if the right newsletter ideas are put into practice.
But how do you make your newsletter relevant for readers in an age when we all suffer from information overload?
Which newsletter ideas will engage customers and generate leads using the technologies and formats that readers are using today?
Download this eBook and discover:
The best format for your newsletter
How to repurpose content and reach more readers
What you need to avoid to be successful
How to integrate your newsletter across different technologies
Strategies used by the most successful newsletter publishers
Fill out the form and we will send you the guide.