Fill out the form and access the information and questions you will need to succeed.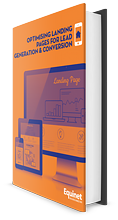 Successfully converting traffic-to-leads and leads-to-sales requires careful consideration of the whole process from call to action to landing page and subsequent lead nurturing campaigns.
Download this ebook and learn how to optimise the heart of that process and gain instant access to the accumulated wisdom of experienced marketers in this field.
Fill out the form and we will send you eBook immediately.